CERTIFICATION QUICKFINDER
Which certificate for my business?
The Global Certification Quickfinder helps tourism businesses, destinations and tour operators to find those certificates which are available to them in their country and which meet their expectations on the coverage of sustainability issues, the credibility level, the visibility of their certified tourism on the global Green Travel Maps and other services for their applicants and members.
1. Select your "Category" and/or filter by your "Country"
2. Filter the available certificates
3. View the profile(s) & make your choice!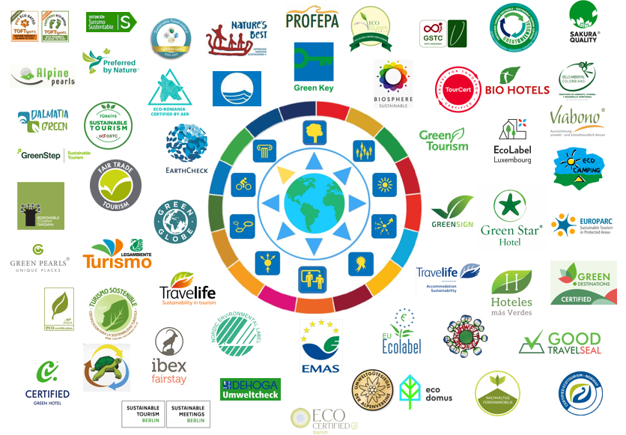 Your most appropriate category
Accommodation Providers
Hotels, guesthouses, youth hotels, pensions, holiday houses and resorts

Camping
Campsites for tents, mobil homes, caravans
Restaurants & Catering Services
including cantines, bars and cafes
Attractions
e.g. museums, historic buildings, convention centres, natural and cultural sites
Activities
include indoor and outdoor activities to practice sport or to get natural or cultural experiences
Shopping
places where tourists buy souvenirs, handcraft or farmers' products
Tour operators, travel agents, intermediaries
operating on local, national or international level, including DMOs offering travel packages to experience their destination

Packages
travel packages offered to tourists
Transport & Mobility Services
public and private services to transport tourists on water, earth or in the air
Destinations
cities, towns, counties and regions with an own destination management organisation
Your filters for sustainability, credibility and services
SUSTAINABILITY
Coverage of sustainability issues in the standard
GSTC recognised
Full coverage. At least one standard of the certification programme is recognised by the GSTC

Comprehensive
Coverage of environmental and at least some social, cultural and/or economic issues


Environmental
Coverage of environmental issues

Unspecified
Not yet specified for the search /filtering (at least covering envoronmental issues)

CREDIBILITY
Verification system applied to show evidence of the compliance with the standard

GSTC accredited
3rd party audit complying with the GSTC requirements (The GSTC accreditation only applies to tour operators, accommodations and destinations)


3rd party audit
but not GSTC accredited


Desk, random or 2nd party audit
Verification system less independent or less credible than 3rd party audit


Unspecified
Not specified for the search /filtering (all labels with either the one or the other type of verification)

SERVICES
Additional services (beside certification) provided by the certification programme to raise awareness and to support applicants and certified businesses

Certified tourism map on Tourism 2030
The certification programme has published its certified tourism on the Tourism2030 Green Travel Maps (See: Certificates with Profiles & Maps)


Standard published online for free
Link to the standard/s on the certificate's website


More services
More services are listed on the certificate's profile with links e.g. to online self-check or training


Unspecified
Not specified for the search /filtering (all labels with either the one or the other or no service)
Transparency on each certificate
The certificates are invited to complete their profiles on Tourism2030 with following information:


- In which countries do they operate?
- Which tourism categories can be certified?
- How far do their criteria cover all su
stainability aspects?
-
How credible is t
heir auditing system?
- Are their standards available online for free?
-
Do they show their certified businesses and destinations on the Tourism2030 Green Travel Maps?
- Which other services do they provide?