CERTIFICATES
Global Transparency
More than 200 certification programmes on sustainable tourism are operating worldwide: businesses, tour operators and destinations never had a greater choice of regional, national and international certificates and labels to proof their "green" commitment and performance regarding environmentally sound and socially responsible sustainability. ECOTRANS provides transparency through the Guide through the Label Jungle: EN DE and the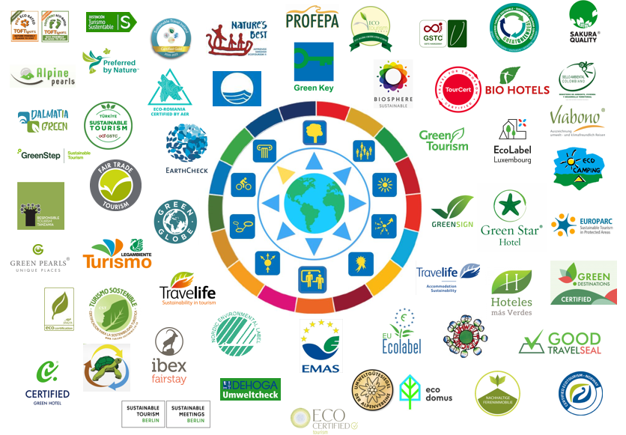 Key information for decision making

The certificates are invited to complete their profiles on Tourism2030 with following information:
In which countries do they operate?
Which tourism categories can be certified?
How far do their criteria cover all sustainability aspects?
How credible is their auditing system?
Are their standards available online for free?
Do they show their certified businesses and destinations on the Tourism2030 Green Travel Maps?
Which other services do they provide?
The answers allow tourism businesses, destinations and tour operators to identify and work with those certificates which meet best their expectations and needs.
Certification Programmes with Profiles and Green Travel Maps

Label

Profile


Map

Austrian Ecolabel for Tourism
ECOCAMPING
Eco-Romania
European Ecolabel for tourist accommodation services and camp site services

Green Pearls Unique Places
GreenSign - InfraCert GmbH
TourCert (for Destinations)


TourCert (for Hotels)


TourCert (for Tour Operators)
VIABONO
Act for Responsible Tourism


Biosphere Responsible Tourism


Biosphere Responsible Tourism (for Accommodations and Destinations)
Biosphere Responsible Tourism label (for Tour Operators)
Ecotourism Australia - ECO Certification Program
EMAS (Eco-Management and Audit Scheme)
Green Destinations Certification


Hoteles + verdes
ibex fairstay