QUICKFINDER & GREEN TRAVEL MAPS FOR CERTIFICATES
Global transparency and market access
Sustainable tourism requires transparency and credibility, visibility and market access. ECOTRANS as an independent not-for-profit organisation is managing the global list of environmental and sustainability certificates in tourism with meanwhile more than 200 systems. The Global Certification Quickfinder and the Green Travel Maps help certificates to be easily found by their (potential) applicants and to give global visibility to their certified businesses, destinations and tour operators.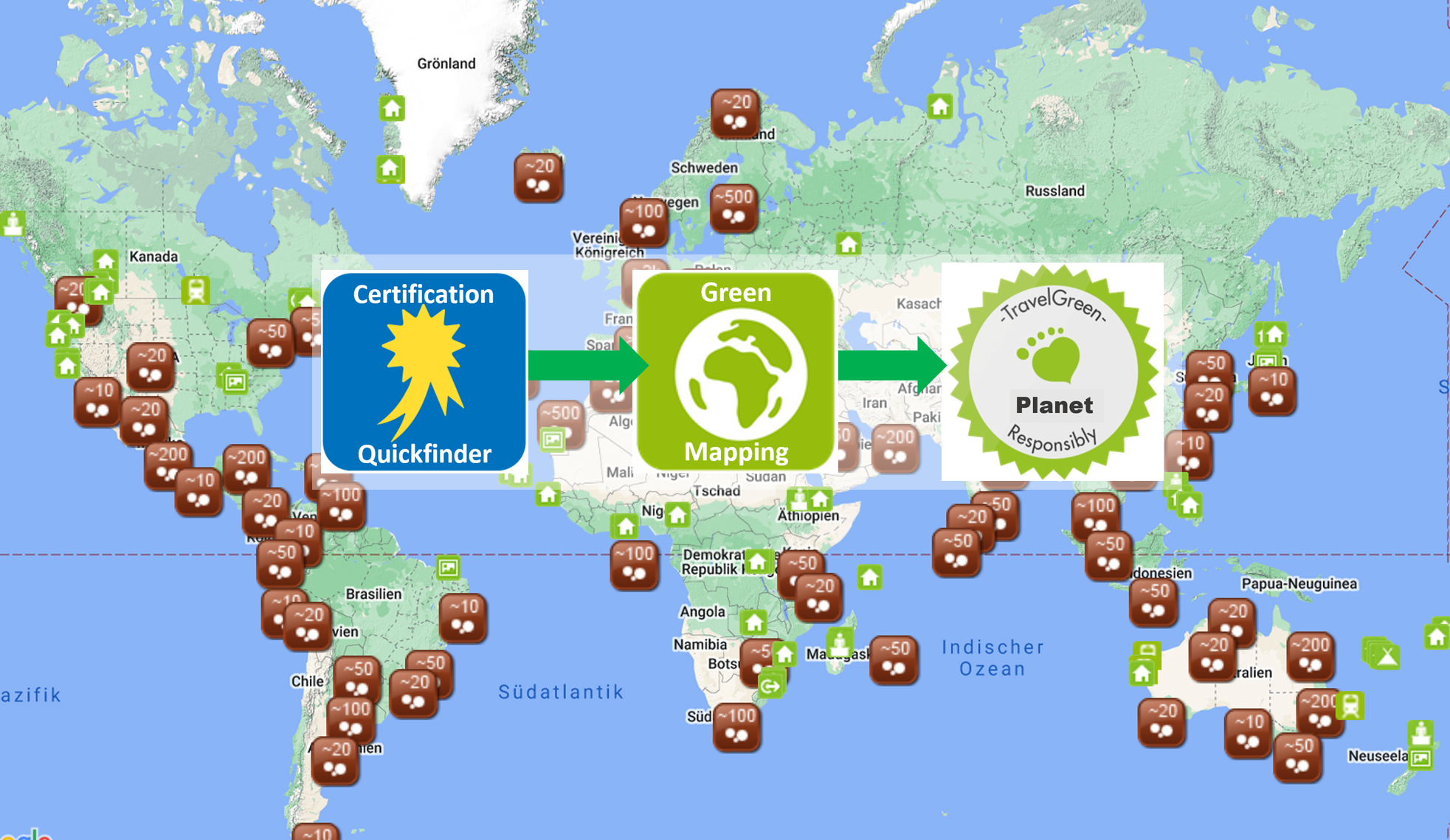 Supporting transparency and market access of sustainable tourism

Thanks to the financial support from the Erasmus+ Programme and ECOTRANS the following services are offered for one year for free (2019) to all environmental and sustainability certification programmes for tourism worldwide - to support transparency, visibility and market access of sustainable tourism.
Tourism2030 Destinet Services

















Profile description

... for your certified tourism

Your own page in "Certified & Awarded Tourism" to host the list and locations of your certified tourism with links to your certificate profile *)





Inclusion of your Green Travel Map in the "Travel Green Europe" app for smartphones and tablets (2019: expansion to "Travel Green Planet")


OPTION: Forwarding your list of certified tourism to Promotion and Marketing Partners (tourism marketing organisations (e.g. Germany Travel), booking services (e.g. bookdifferent), travel agents and tour operators).

Procedure:

ECOTRANS first informs the certification programme about the interest of a marketing partner in receiving the list for including and promoting the certified businesses and destinations in their products and services. After

the certification programme as owner of the list agrees ECOTRANS will forward the list.


For further information please contact diego.nunez@ecotrans.de (cc/ herbert.hamele@ecotrans.de)

(Effective from 22 February 2019, update 29 May 2019)
*) Extra hosting and helpdesk services on demand