Travel Green Planet 2030 Initiative
A 1% certified green market share is not enough for SDG12

Arguing the case for using sustainable tourism as a vector for sustainable development, is 1% of green certified tourism worldwide enough to set up sustainable business supply chains for the 99% to follow in the next ten years, ie by the end of Agenda 2030 in order to minimize the employment, climate change and biodiversity crises?
Contact: travelgreenplanet@ecotrans.de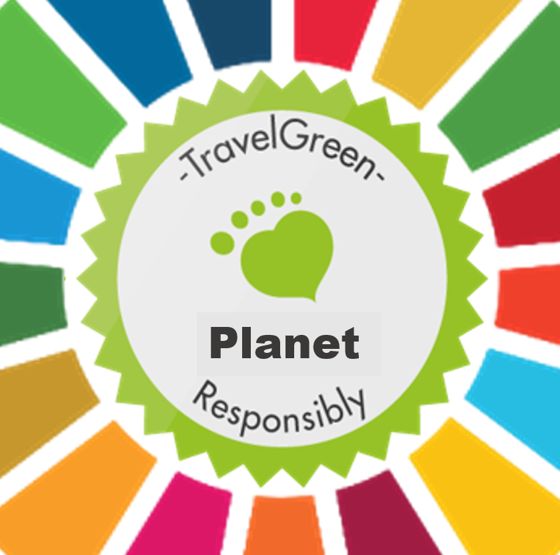 A global collaboration initiative

Boosting the market share of certified sustainable tourism for SDG12 until 2030




The Travel Green Planet 2030 collaboration initiative was initiated at ITB 2018, launched at ITB 2019 and presented at the GSTC conference 2019 on the Azores with the follow up clustering event at ITB 2020 held online on 4th March with contributions from UN-CBD, UNESCO, GSTC, WWF, GNF, SUNx, Green Destinations and ECOTRANS.

The aim is to form the Travel Green Planet 2030 cluster and start commonly sharing the Green Travel Maps for boosting sustainable tourism.

The initiative aims to ensure all tourism activities in destinations with protected areas and cultural heritage sites are sustainably certified by 2030 as part of SDG12 (Sustainable Consumption and Production).
Committment
| | |
| --- | --- |
| | The SDG17 partnership will commonly use and share the Green Travel Maps on Tourism2030 for collaboration synergies and annual reporting in the next decade 2021 -2030. Thus sustainable tourism will become a driver for achieving the SDGs and use less energy, less water consumption, less food and plastic waste, less carbon emissions, provide better working conditions and generate more local income through environmental and sustainably certified tourism businesses, destinations and tour operators worldwide. |
| | Travel Green Planet2030 is part of the One Planet Network Sustainable Tourism Programme |
Activities 2022

"ITB 2022" Follow up Event – European and Global Stakeholder Clustering for Tourism Sustainability Certification, 24th march 2022 (e.g. 16:00 CET – tbd)
The Ecotrans Network will be organising an event parallel to this year's ITB calendar to bring national European and global stakeholders together once again on the subject of tourism sustainability certification. Participants will learn about and contribute to the cluster design and operational programme, which aims to collate each cluster members' tools and apply them to the world's tourism supply chain and destinations in a collaborative effort to implement the SDGs.
> EVENT PAGE (coming soon)
Activities 2018 - 2021

2021

Presentation at COP26

"Let's collaborate at CoP 26 - Join our certification cluster collaboration process to stop the green washing and turn words in to action!"

See the presentation (still to come)

Sustainable Tourism Certification clustering concept

VISIT OUR CLUSTER DEVELOPMENT PAGES

TO SEE HOW WE CAN ALL WORK TOGETHER TO CERTIFY SUSTAINABLE TOURISM SUPPLY CHAINS

2020

Covid-19 Emergency Response - Forming the Travel Green Planet2030 collaboration cluster

The devastation to the global economy caused by the coronavirus has enormous implications for how we now pursue the Agenda 2030 SDGs. Travel and Tourism sectors have been particularly adversely affected and will need to be rebuilt, keeping in mind the need for long term as well as short term viability. Even though we are still in the emergency reaction phase, we are calling for all Tourism 2030 collaborators to join in a joint follow up action to address how to design urgent, priority and fundamental policies and implementation programmes for using sustainable tourism as the key vector for global sustainable development that brings a green, circular and peace-based economy into reality at this time of unprecedented challenge and opportunity.


More: ECOTRANS proposes a Covid-19 Emergency Plan

ECOTRANS Contribution to the (post) COVID-19 Sustainable Development of Tourism

Collaboration is the Key!

2020

ITB 2020 event

Video message Oliver Hillel/CBD


Please see the UN CBD Support for the Travel Green Planet Initiative!




See the Travel Green Planet Introduction

Download the full Online Event Slideshow with useful links

Watch the Online Event Recording of the "SDG2030: The Travel Green Planet cluster formation meeting"




2019

The Tourism2030 Clustering Programme - SDG Collaboration Opportunity

Presentation at GSTC Conference

2018

ITB 2018 - 25 years ECOTRANS

ITB 2018: Tourism and SDGs 2030 - A Fairy Tale or a Fairy Tale Ending?



For further information please contact: Herbert.Hamele@Ecotrans.de or Gordon.Sillence@Ecotrans.de