Travel Green Planet 2030 Initiative
It's 2023, just 7 years left for Agenda 2030 Sustainabile Development Goals implementation... and still the current 
1% certified green market share of the tourism supply chain is not enough to meet SDG 12 - Sustainable Consumption and Production. 
Objective - The Travel Green Planet Initiative aims to ensure all tourism activities in destinations with protected areas and cultural heritage sites are sustainably certified by 2030 as part of SDG12 (Sustainable Consumption and Production). 
Method - The Travel Green Planet Initiative uses ICT digital clustering to build collaborative stakeholder maps to implement SDG 17 - Partnerships for the Goals. The Tourism 2030 Going Green system brings together common maps of local-to-global stakeholders interested in developing or promoting sustainable and responsible businesses that have been independently sustainabiy certified throughout the tourism value chain.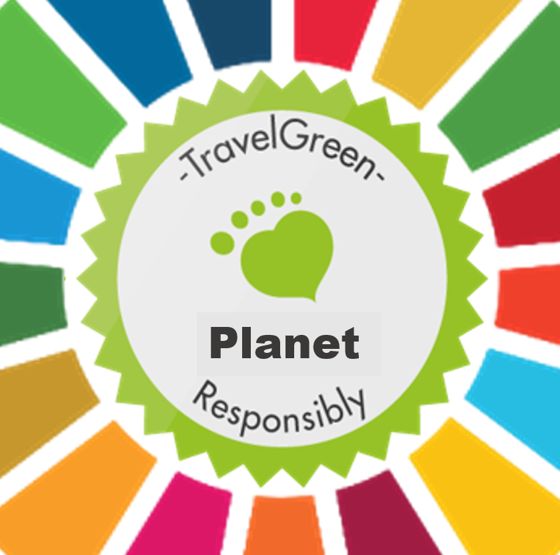 History - The Tourism 2030 ICT Platform became the home of the Travel Green Planet Initative at ITB Berlin 2019. The aim was to collaboratively map the existance and support the growth of sustainable travel & tourism business supply chains for the 99% to follow in the next ten years, i.e. by the end of Agenda 2030.  Using the platform, Ecotrans - supported by the UN and EU and several national governments - developed a local the global mapping system for independently assessed sustainable tourism products and services to be used by a variety of stakeholders to make use of for their own destination and business support programmes.
Policy Rationale - Now the urgency of this collaborativee clustering action reflects the discussion of how tourism sector stakeholders adapt to and mitigate societal challenges of employment, climate change and biodiversity crises under conditions  of instability and insecurity. A common map of the landscape of sustainabile businesses and destinations is indispensible for any professional working to increase or promote sustainable tourism goods and services and Tourism 2030 can now provide that collaborative map to all stakeholders across both territory and sector. 
Professional Commitment - We have been arguing the case for using sustainable tourism as a vector for sustainable development since 2002, yet we remain with the current state of having only 1% of global tourism businesses being sustainabily certified in the current voluntary and not mandatory world of good governance of the sector.  If you are a tourism professional or a responsible traveller and want to contribute to improving this statistic in your region or field, we are inviting you participate in this SDG 17 initiative by making use of the Tourism 2030 Going Green System. 
Collaborative Action - Even if both politicians and professionals themselves are doubting the achievability of the SDGs, the thinking that we all need to act cooperatively, collaboratively and collectively to succeed in any of them is still highly relevant to the solution. Clustering gives SDG 17 a form and function, and when the power of ICT is used then we can enter an information age where knowledge can flow freely for all to use creatively to resolve our 21 century crises.  
The Message - to all tourism sector stakeholders in government, business and civil society - So let's use SDG 17 to implement all the SDGs by raising the number of sustainably certified businesses from 1% to a 100% in all protected areas and sites of cultural interest by 2030. Nothing less will do. This is the way sustainable tourism acts a a vector for the overall sustainable development our industry so desperately needs to thrive in the 21st century. And this is the way you as a professional can contribute in a local to global collaborative action. 
Clustering Tourism Stakeholders in SDG 17
Boosting the market share of certified sustainable tourism for SDG12 until 2030 - History of Collaboration

 




The Travel Green Planet 2030 collaboration initiative was initiated at ITB 2018, launched at ITB 2019 and presented at the GSTC conference 2019 on the Azores with the follow up clustering event at ITB 2020 held online on 4th March with contributions from UN-CBD, UNESCO, GSTC, WWF, GNF, SUNx, Green Destinations and ECOTRANS.

The aim is to form the Travel Green Planet 2030 cluster and start commonly sharing the Green Travel Maps for boosting sustainable tourism. 

The initiative aims to ensure all tourism activities in destinations with protected areas and cultural heritage sites are sustainably certified by 2030 as part of SDG12 (Sustainable Consumption and Production).
Committment
| | |
| --- | --- |
| | The Tourism 2030 Going Green SDG17 partnership enables participants to commonly use and share the Green Travel Maps on Tourism2030 for collaboration synergies and annual reporting in the next decade 2021 -2030. Thus sustainable tourism will become a driver for achieving the SDGs and use less energy, less water consumption, less food and plastic waste, less carbon emissions, provide better working conditions and generate more local income through environmental and sustainably certified tourism businesses, destinations and tour operators worldwide. |
| | Travel Green Planet2030 is part of the One Planet Network Sustainable Tourism Programme  |
How you can participate
The system is open for use by a wide variety of professionals and their organisations - Booking Engines, Tour Operators, Travel Agents, Destination Managemnt Organisations, Business Support Organisations, Experts Academics SMEs and even travellers  can register on this platform and sign up to use thei Tourism 2030 Going Green System to map your region or destination.   Our landing page gives you user-defined access to the services and systems you will find useful.  Register on the Portal and contact us to apply to use our professional services. 
Activities 2018 - 2022
Post-CoP 27 Collaborative Action Planning Debrief Discussion

Travel Green Planet Clustering Meeting
WED, 30th November 2022, 15:00 - 16:30 (CET)
Contact: travelgreenplanet@ecotrans.de
PROGRAMME
3:00 - 3:10 Introduction and Orientation: Ecotrans - Dr Richard Denman

3:10 - 4:00 A Top 10 five minute presentations on global state of the art sustainability tools and programmes for tourism SMEs and destinations
Current list of confirmed speakers and their topics relevant to the clustering of sustainability information:
Introducing the ETGG 2030 European and Global level tourism sustainability clustering process (Gordon Sillence - Ecotrans)

Transforming Tourism Value Chains – Resource Efficiency Tool (Andrea Maria Bacher - UNEP)




GSTC Sustainable Tourism Impact assessment tool (Randy Durband - GSTC)

SUNx Code Red  – Sunx Climate-friendly Travel Programme  (Olly Wheatcroft - SUNx Video Presentation)

Post Cop 27 European level actions for sustainable tourism (Dr Cinzia de Marzo - EU Climate Pact Ambassador, Mirabilia Network)




Protected Area Implementation of Sustainability Certification (Lucia Prieto Fustes IUCN  MEET NETWORK)




Good Travel Standard/Carbon Measurement Tools (Patrice Talaue - Green Destinations)




Conclusion: Travel Green Planet Maps for Cluster Partners (Herbert Hamele - Ecotrans)
4.00 pm Open Discussion – Informal Q & A with attendant participation
4.25pm Summary and Next Steps – Dr Richard Denman
4.30pm End of Meeting
| | | |
| --- | --- | --- |
| | This event is part of the ETGG2030 clustering clustering approach for boosting sustainable tourism through certification | |
"ITB 2019" Travel Green Europe Follow up Event – European and Global Stakeholder Clustering for Tourism Sustainability Certification,  November 3oth 2022 (15:00 -16.30  CET)
The Ecotrans Network will be organising a post CoP 27 event to bring national European and global stakeholders together once again on the subject of tourism sustainability certification.  Participants will learn about and show how their organisaton can benefit from and contribute to a sustainable tourism clusteringonal programme.  The meeting will demonstrate the Going Green 2030 system and show each cluster members' tools and programmes that can be appled to support the world's tourism supply chain and destinations in a collaborative effort to implement the SDGs.
 

2021

Presentation at COP26

"Let's collaborate  at CoP 26 - Join our certification cluster collaboration process to stop the green washing and turn words in to action!"

See the presentation (still to come)

Sustainable Tourism Certification clustering concept

VISIT OUR CLUSTER DEVELOPMENT PAGES

TO SEE HOW WE CAN ALL WORK TOGETHER TO CERTIFY SUSTAINABLE TOURISM SUPPLY CHAINS

 2020
 

Covid-19 Emergency Response - Forming the Travel Green Planet2030 collaboration cluster

The devastation to the global economy caused by the coronavirus has enormous implications for how we now pursue the Agenda 2030 SDGs. Travel and Tourism sectors have been particularly adversely affected and will need to be rebuilt, keeping in mind the need for long term as well as short term viability. Even though we are still in the emergency reaction phase, we are calling for all Tourism 2030 collaborators to join in a joint follow up action to address how to design urgent, priority and fundamental policies and implementation programmes for using sustainable tourism as the key vector for global sustainable development that brings a green, circular and peace-based economy into reality at this time of unprecedented challenge and opportunity.


More: ECOTRANS proposes a Covid-19 Emergency Plan

ECOTRANS Contribution to the (post) COVID-19 Sustainable Development of Tourism

Collaboration is the Key!

2020
 

ITB 2020 event

Video message Oliver Hillel/CBD


Please see the UN CBD Support for the Travel Green Planet Initiative! 




See the Travel Green Planet Introduction 

Download the full Online Event Slideshow with useful links

 

Watch the Online Event Recording of the "SDG2030: The Travel Green Planet cluster formation meeting"




2019

The Tourism2030 Clustering Programme - SDG Collaboration Opportunity
 

Presentation at GSTC Conference

 

2018

ITB 2018 - 25 years ECOTRANS

ITB 2018: Tourism and SDGs 2030 - A Fairy Tale or a Fairy Tale Ending?



For further information please contact: Gordon.Sillence@Ecotrans.de