DESTINET SERVICES
Green Mapping Services
The Tourism2030 platform aims to support the tourism sector in making their products and services more sustainable and visible. ECOTRANS is managing the platform and offers a set of services and tools to bring together the interest of sustainable tourism certification programmes, businesses and destinations, marketing organisations and consumers:
the Global Certification Quickfinder,
the Green Travel Maps and the Travel Green Europe app.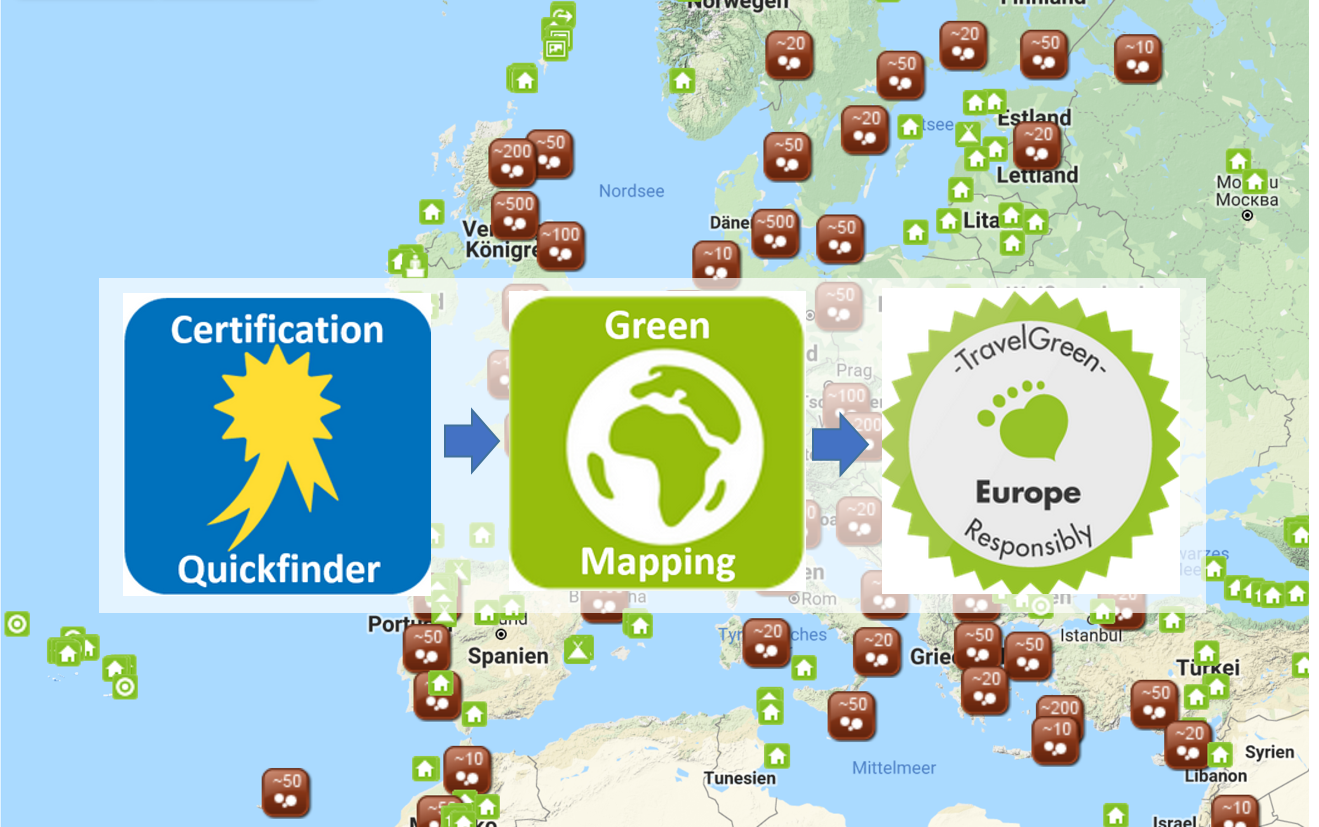 Making your tourism more sustainable and visible
The Global Certification Quickfinder
You are certifying tourism businesses or destinations for their environmental and sustainability efforts and performance?
Show your certificate on the Global Certification Quickfinder and place your certified offer on the Green Travel Maps, where users can see your certified tourism offer - each linked to your certificate description as "green proof".
Green Travel Maps for Destinations
You are managing a destination or country and want to promote and raise the number of the tourist businesses and services that demonstrably contribute to a environmentally friendly and socially compatible tourism?


Get your Green Travel map with the locations of hotels, camping and other services certified by national or international labels and add more businesses and services with a local or regional sustainablility label.

Workshops and Training

You want to develop your own regional or national programme for making tourism more sustainable? E.g. to set up and run a eco-tourism certification programme for micro and small businesses or/and destinations with protected areas?

The international ECOTRANS experts across Europe help you to e.g. raise the awareness and motivate businesses to go green (workshops), to train evaluators (training), to promote and market your green offer to the international tourism market (events, marketing channels), and more.
The "Travel Green Europe" App
| | |
| --- | --- |
| | The Travel Green Europe - Responsibly app is fed App provides responsible travellers with live listings of sustainable tourism certified products, services and destinations around the world. The App works with the Tourism2030 Sustainable & Responsible Tourism Portal to keep users informed of the green choices that can be made when travelling, focussing on ecotourism and green destination offers. The Green Mapping mode is for professional users to create your own "Green Travel Maps". The App was developed with EU Erasmus + funding through the EcoAct and TRIANGLE projects as a contribution to the UN/EU 2030 Agenda. |
The Tourism2030 Knowledge Base
Choose your topic of interest, find contacts, tools, publications and good practice examples, submit and share your own information!
The comprehensive knowledge base and listing on Tourism2030 is free, on a public access basis, but certain web-space services and training, education and development programmes are charged to pay for the maintenance and development of the site, and to independently manage its collective operational information workflow, which is structured as a global to local Tourism Knowledge Innovation Community platform.