Course Introduction
Sustainable Development of Tourism - Course Introduction
Before you begin the online course, please read the course introduction below carefullly and get in touch with the instructor at your university in case you have any doubts or questions.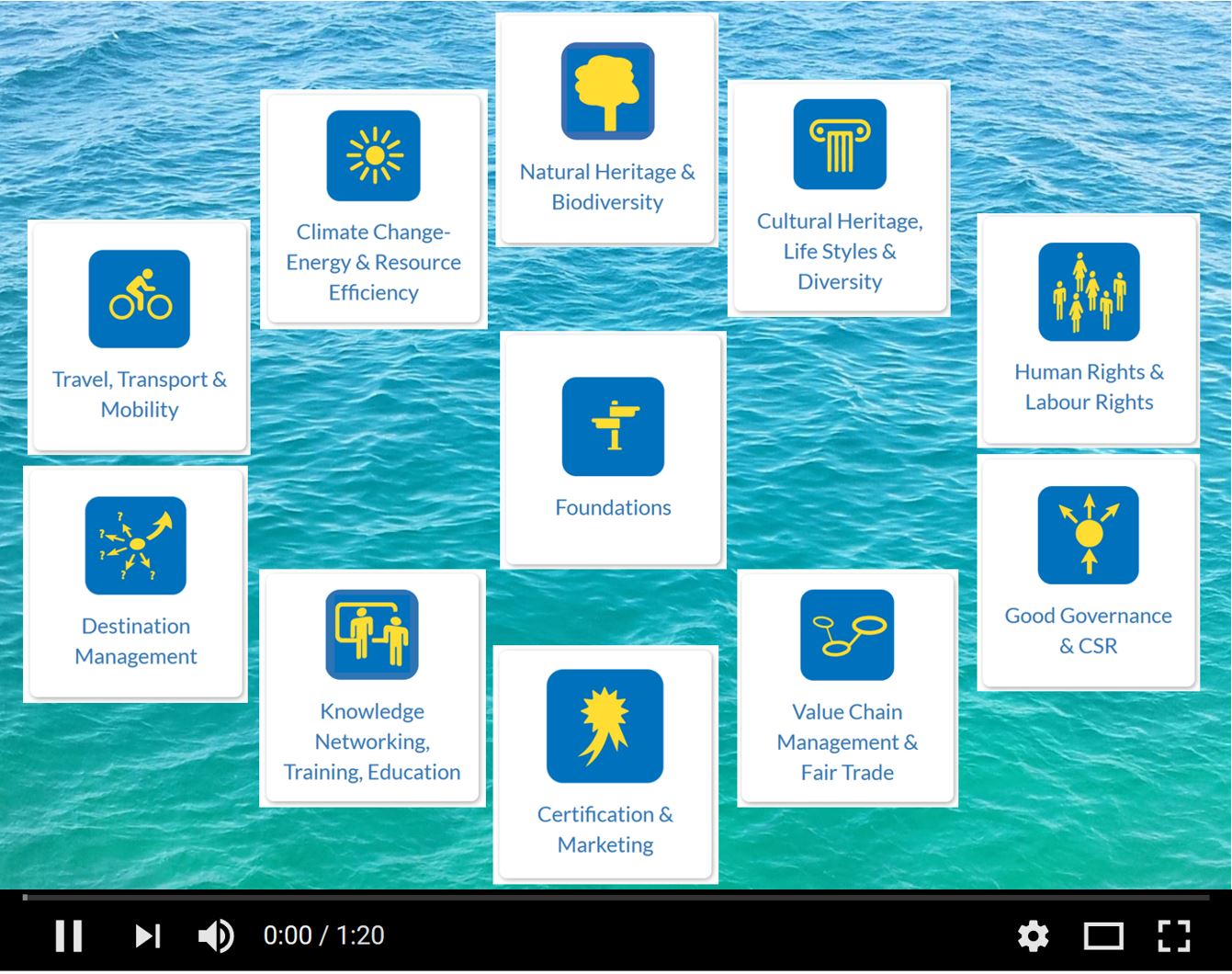 This online course entitled "Sustainable Development of Tourism" is an output of the Erasmus+ Knowledge Alliance TRIANGLE. Originally, it was developed by the four universities University of Algarve (Portugal), Eberswalde University for Sustainable Development (Germany), Université Paris 1 Panthéon-Sorbonne (France) and MODUL University Vienna (Austria) in close collaboration with ECOTRANS Network for Sustainable Tourism, Eau de Web, and Forum Anders Reisen. It is a dynamic course, hence the original partners as well as new university partners from across Europe are continuously updating and improving it.

The online course is delivered in a modular format, consisting of one foundation module (Module 0) plus ten more specific modules (Modules 1 to 10) on different aspects of sustainable tourism, which are related to the 2030 Sustainable Development Goals (SDGs) of the United Nations and directly build on the ten action fields in sustainable tourism identified to achieve the SDGs.
Time Needed to Do the Course
The estimated workload for Modules 1 to 10 is 25 working hours per module, while it is 50 hours for Module 0. The contents of the modules can be taken either as stand-alone modules or as a whole. If you want to take the course as a whole, you have to reserve approximately 300 working hours for it. Also note that Module 0 "Foundations of the Development of Sustainable & Responsible Tourism" serves as an introduction to both the issues of general sustainability and to tourism sector-specific issues. While it is therefore recommended to begin with Module 0, Modules 1 to 10 can be taken in any order.
Topic Modules
Each module is divided into learning units, while the first learning unit per module serves as an introduction to the respective module (including an introductory video), thereby also linking its contents to the other modules as well as to the relevant SDGs. The estimated working hours per learning unit are indicated as well. It is recommended to take the learning units per module in consecutive order. On the introductory page of each module, you will not only find an overview of these learning units but also of the respective module's learning objectives and learning effects (know-how, skills, and values).
­­
Each learning unit, in turn, consists of instructions as well as of resources serving as teaching material. These resources consist of files, publications, audios and videos, as well as links to best practice examples, some of which have been prepared by the project partners themselves, while others have been from external sources. Please note that the mix of teaching material differs from module to module and is in line with regards to their specific content requirements. Furthermore, all resources are marked as either "mandatory" or "optional".

Assessment System
In principle, the online course is self-instructed, self-assessed, and also self-paced. However, in case you want to take (parts of) the online course for credit, the rules and regulations of the university you are studying apply. In particular, in order to obtain ECTS points for a Module (1 ECTS point for Modules 1 to 10; 2 ECTS points for Module 0), there will be an assessment (e.g., essay, exam, presentation, etc.) at the end of each Module on all of its contents in line with the rules and regulations of the university you are studying. Please get in touch with the course instructor at your university for more details.
Within each module (normally after each learning unit, except for the introductory learning unit), there is the possibility of self-assessment, which is based on the resources marked as "mandatory", thus giving you the possibility to assess your own progress. All these self-assessments are collected on the Assignments page of the online course and the estimated hours necessary for completing the respective assignment (as part of the corresponding learning unit) are also indicated. When taking this online course while studying at a partner university, there is always the possibility to submit the self-assessments as assignment to the course instructor at your university using the submit button in order to obtain formative feedback on your progress.
Some of the self-assessments may resort to tools available on the Tourism2030 portal, such as the Good Practice Browser, the Certification Quickfinder, or the Green Travel Maps. In order to fully benefit from the online course, you are advised to get familiar with the functionality of these tools before starting the course.
See the Course Handbook

---