The Tourism2030 Clustering Programme - SDG Collaboration Opportunity
At ITB Berlin in 2019 we launched of the
"Tourism2030 - Travel Green Planet Mapping Initiative"
This initiative aims to have all tourism in protected areas certified by 2030 as its flagship goal under SDGs 12, 13, 14 and 15, with our current Tourism 2030 - Green Travel Maps and App providing the baseline measure and the system that each member state or region can tangibly contribute towards.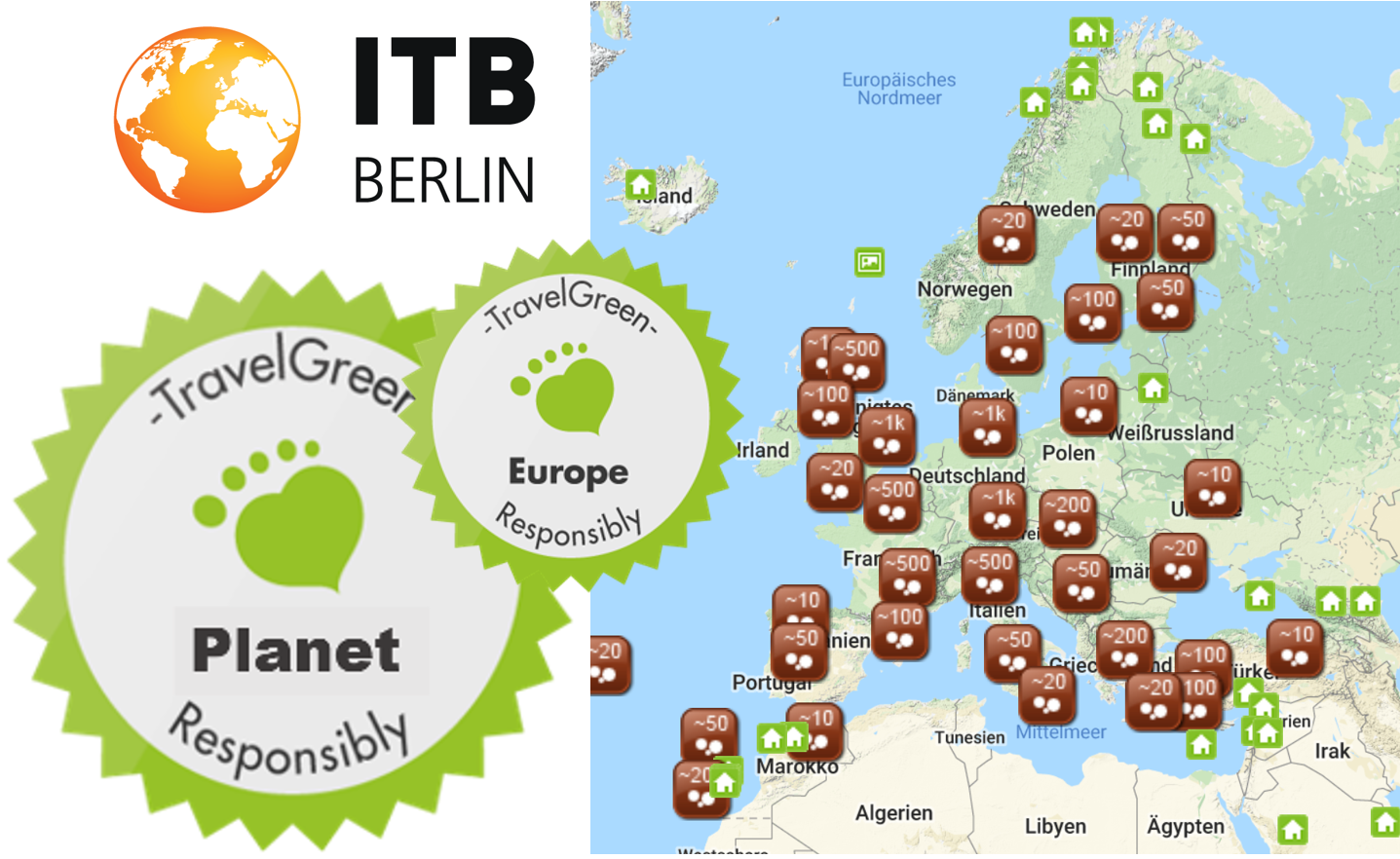 6th March, TRIANGLE & Eco-Act launch meeting
Turkey stand


7th March, EEN meeting
Georgia stand


8th March, CSR Get Together
Hall 4.1.


see more ITB 2019 pictures
NEW in 2021 and READY for the 2030 Decade ...
The Travel Green Planet SCP Supply Chain Clustering Programme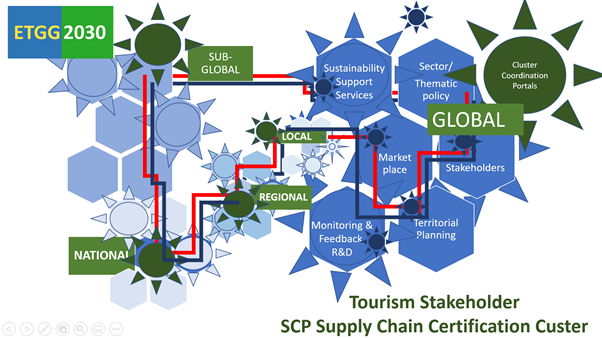 The Tourism2030 - Travel Green Planet Mapping Initiative
Ecotrans has spent over 25 years working with the UN, EU and national governments to make tourism more sustainable. Having created the world's largest 3rd party certified sustainable tourism market place, we  launched our state of the art 'Travel Green Europe' App at ITB in 2019 to both upscale our work at the global level, and reach out to every local destination that is going green. Now we have started the European Toruism Going Green 2030 project and are developing the Tourism 2030 Portal as a local to global SCP supply chain certification support tool.
We would ask you to work with us under the idea of 'Joining our services with your services to meet Goal 12 – SCP by 2030'
The aim is that each stakeholder in the initiative works with us to build and use the Tourism 2030 - Travel Green Planet App across your members and networks for:
Mapping Tourism Value chains on a local to global scale for 2030
Supporting Green Procurement in the Tourism Supply Chain
Empowering Consumers to make Ethical Travel Choices
This is part of the 12 year Tourism2030 - Countdown Clock initiative over 3 policy cycles, and aims to expand our current coverage of 16,000 certified supply chain items in the next policy cycle through the development of the Travel Green Planet App and a local to global Tourism SCP Supply Chain Certifcation Clustering Programme
The information collected through this clustering process will all be available on an app that currently has starting information on almost all European countries. Partners in the initiative would be asked to do promotional and developmental steps in collaboration with eachother and with Ecotrans to build a comprehensive local to global map of each country's move towards a sustainable and responsible tourism offer.
From

Travel Green Europe to Travel Green Planet
Tourism2030 - Travel Green Europe is a web-faced App ready to start a collective process of gathering and sharing data for those interested in travelling green:  
Download the App

then send us a "Feedback" through the App
to let us know you wish to join our international Tourism2030 - Partnership for SDGs and to collaborate in our Travel Green Planet mapping initiative. We will then put you on the global map of stakeholders interested in the Countdown of the SDG2030 Agenda.
2020: see the 

One Planet Network initiative Travel Green Planet 2030