Frankfurt, 06 February 2017 – The World Tourism Organization UNWTO is coordinating the implementation of the "International Year of Sustainable Tourism for Development" on behalf of the United Nations General Assembly. The German National Tourist Board (GNTB) is a Gold sponsor of this UNWTO year, giving the GNTB an opportunity to showcase Germany to the international community, as a travel destination with an exemplary sustainable tourism offering and services.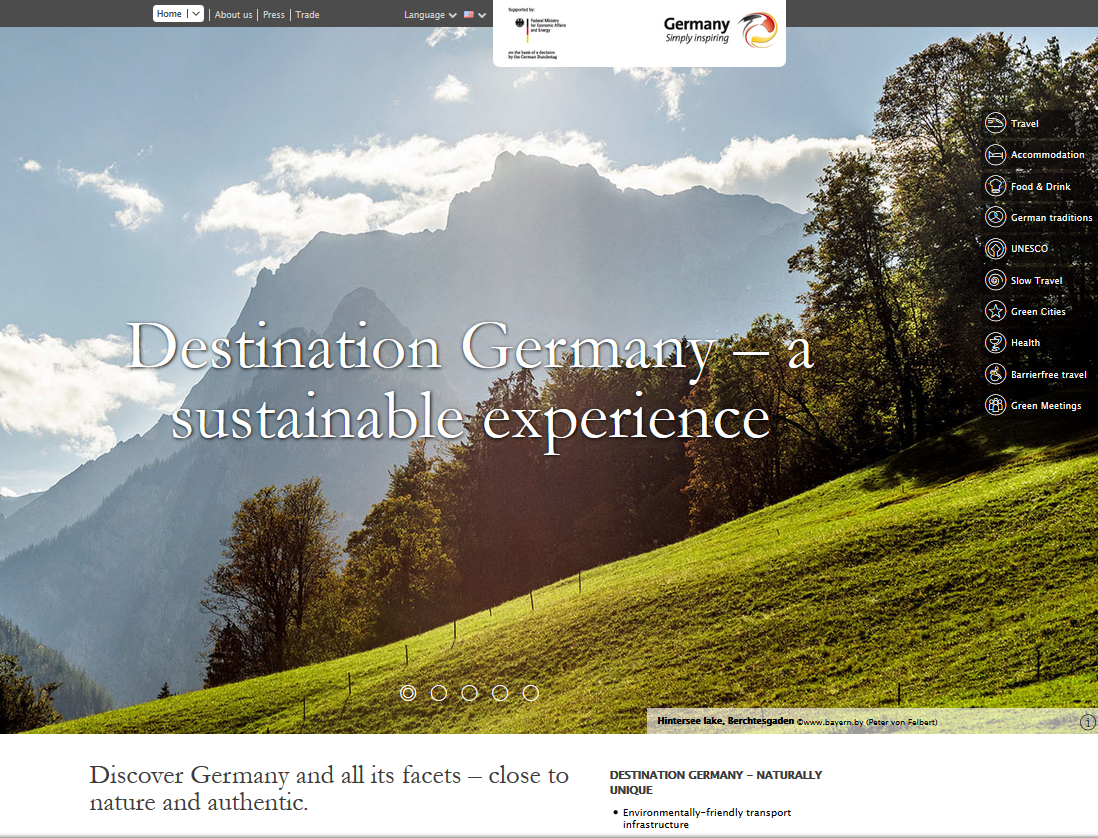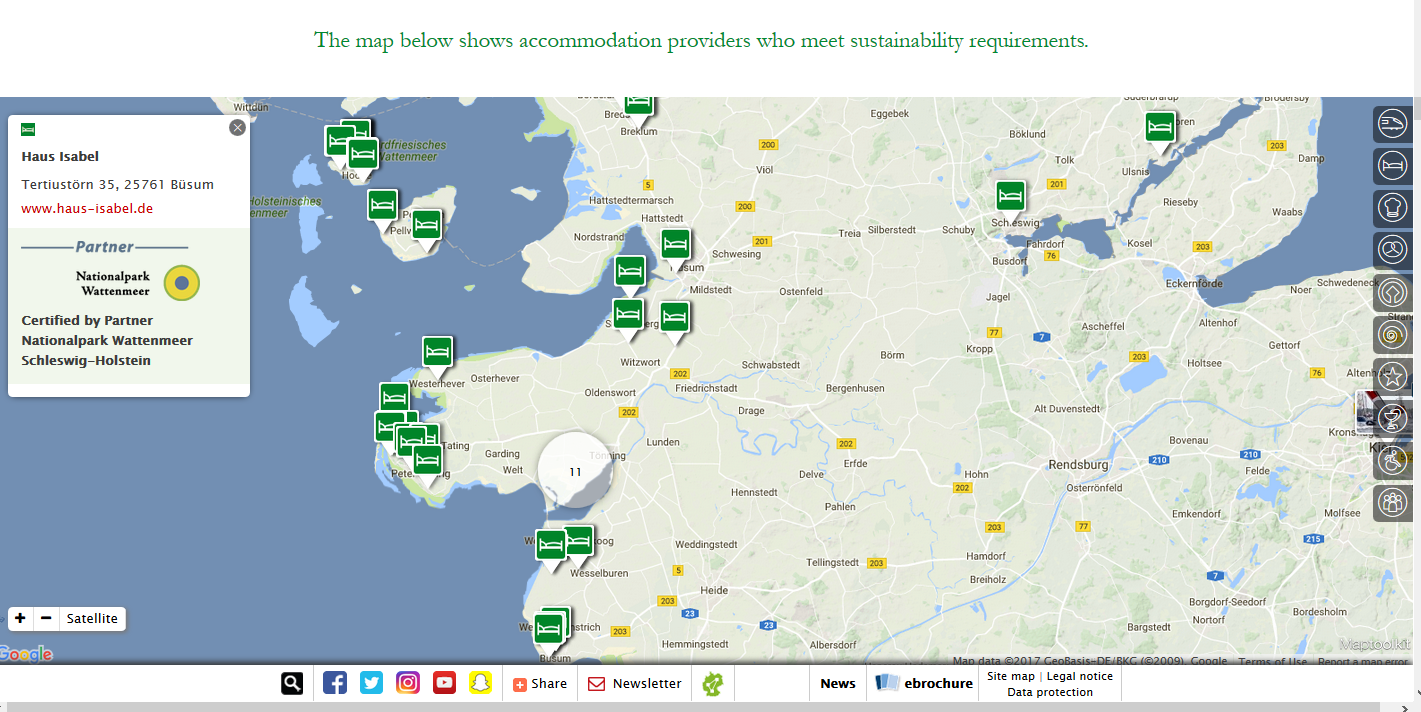 To kick off the international year's theme, the GNTB has launched a new DZT micro site on "Sustainable Travel in Germany": www.germany.travel/sustainability.
Petra Hedorfer, Chief Executive Officer of the GNTB, explains: "Against the backdrop of rising numbers of tourists, climate change and increasing consumer requirements, sustainable offerings are essential to remaining an internationally competitive destination into the future. Therefore we have purposely anchored the aspect of sustainability as a significant facet of Destination Germany's brand essence."
The micro site offers compact information on "sustainable travel" in 17 languages along the entire tourism value chain. Topics include green travel by train, bus or public transportation, accommodation, culinary delights, customs & traditions, incl. open-air museums, UNESCO world heritage sites, slow travel and natural landscapes, green cities, incl. up cycling, wellness / spa & thermal waters, accessible travel and green meetings. Using an interactive map of Germany, users can find sustainable certified accommodation options, ranging from basic eco-camping to five-star hotels.
Experts from ECOTRANS in collaboration with state marketing organizations select certificates.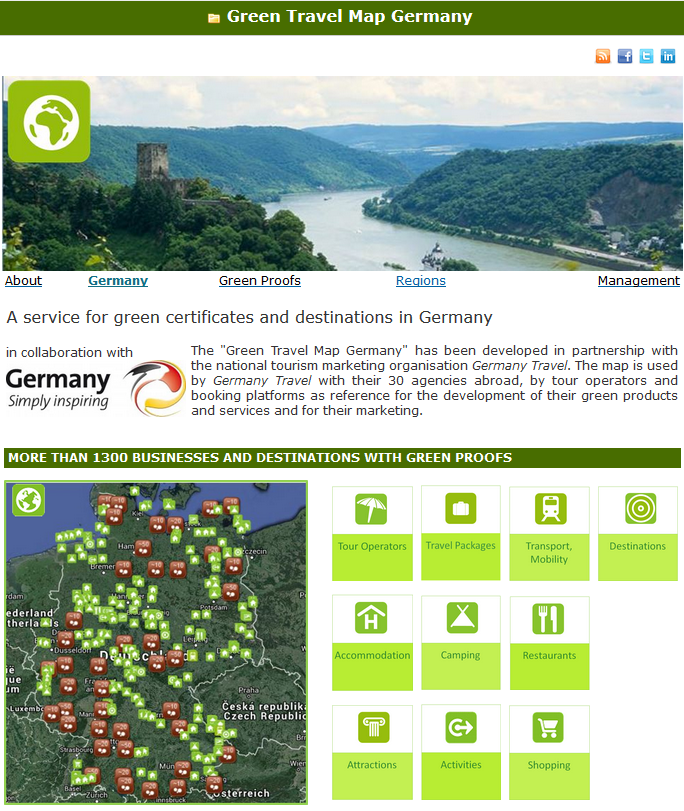 Saarbrücken, 07 February 2017 - The independent not-for-profit network ECOTRANS is running the global DestiNet.eu platform for sustainable and responsible tourism, providing transparency on all environment and sustainability certificates for tourism worldwide. In partnership with the certification programmes ECOTRANS is mapping their certified tourism on the global DestiNet Market Place Atlas. With its "Green Travel Maps" as DestiNet Service ECOTRANS offers to national and regional destination management organisations a central decision help for businesses to apply for certification.
E.g. the Green Travel Map Germany informs on more than 30 certificates for tourism in Germany and shows more than 1300 certified tourism businesses - all linked with their "green proofs".
Herbert Hamele, chair and lead expert for sustainable tourism certification of ECOTRANS, explains: "Since 25 years we have continuously kept up-to-date the growing list of meanwhile more than 150 international and national certificates and labels in the world, more than 50% operating in Europe. In combination with the maps of their certified tourism on DestiNet we can now provide "Green Travel Maps" to national and regional tourist organisation in Europe as a central planning and decision tool for monitoring, promoting and raising the market share of their green offer. We are very happy that Germany is the first country in the world using our "Green Travel Maps" service for the GNTB interactive map on www.germany.travel/sustainability."