TRAVEL, TRANSPORT & MOBILITY
Sustainable transport and travel (also referred to as "soft mobility" or "sustainable mobility") play an important role in the development of sustainable tourism as tourism-related transport, especially road and air traffic, is on the rise, and contributes considerably to greenhouse gas emissions, pollution and climate change. Developing and encouraging the use of different modes of transport with low impact on the environment, e.g. cycling, walking, car sharing, fuel-efficient transport systems and the use of electric vehicles, is a key to reducing the travelers' ecological footprint. To achieve this, consistent and innovative sustainable mobility strategies and measures need to be formulated and introduced at destination and business level.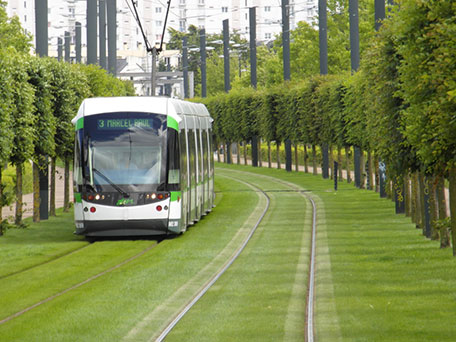 Administrator: Heike Dickhut/HNE Eberswalde, Heike.Dickhut@hnee.de
The Role of Tourism Stakeholders
The topic of "sustainable mobility" has continuously found its way to the agendas of tourism and political conferences alike. On various levels, from the local to the global, strategies for sustainable mobility and the introduction of e-mobility have been formulated and are on the way to be implemented successfully. Rapid innovation is taking place among vehicle manufacturers and destinations and businesses are making soft mobility offers a major part of a completely new tourist experience.
As means of transport concern all areas of the tourism supply chain (i.e. arrival and departure, local transport, accommodation, gastronomy, leisure activities, etc.), a sustainable transport system needs to be embedded in an integrated tourism strategy to be successfully implemented.
Experience shows that the development of sustainable mobility requires a multi-stakeholder approach. Collaboration between politics, the local community, NGOs, experts, destinations, businesses and travelers is essential for making sustainable transport a success – by adapting it to stakeholders' interests and making information available for everyone.
Governments



Sustainable travel, transport and mobilty are policy concerns not only for tourism but for society as a whole. Governments should follow strategic mobility concepts at a national level and provide necessary infrastructure at a local level to meet visitors' and communities' needs, supported by sufficient resources.

N
GOs, networks, partnerships
NGOs representing environmental, social, cultural and economic interests should bring their specific knowledge to the development of soft mobility solutions. They can play an important role in the design, implementation, operation, promotion and observation of sustainable mobility offers. Networks and partnerships can serve as a pool of best practice and support.
R
esearch, education, consultancy
Research and educational bodies undertaking research in sustainable mobility are broadening the knowledge base (e.g. indicators, criteria, recommended procedures) on sustainable transport solutions. Some bodies provide special courses and trainings on transport, traffic management and information systems. Consultants can support companies or destinations in implementing a sustainable mobility concept.
Destinations
Sustainable mobility should be integrated at destination level into local tourism strategies, boosting a green image and also providing a special visitor experience that can be actively promoted to competitive advantage, supported by information and creative travel packaging.
Businesses
Support and implementation of sustainable transport approaches by tourism businesses is essential for the success of sustainable mobility in tourism. A rowing set of manuals show businesses the benefits of sustainable transport and guiding them on implementation.
Travellers

Using sustainable means of transport for arrival, within the destination and for departure, is an easy way for travelers to reduce their ecological footprint and enjoy new ways of travelling. Good information about existing offers is vital. By reporting their experiences, travelers can contribute further.