Join "Ecotourism in Europe" -livestream June 29th, 2012 !
Workshop: June 29th, 2012
The European ECOLNET workshop "Learning and Certification to Raise the Ecotourism Quality", being held on Friday, 29th June, will be available to online participants to view and join discussions via live-streaming (9:30–16:30 CEST) and via Twitter (hashtag #euroeco).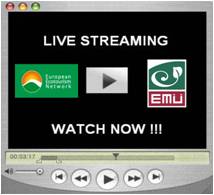 Workshop speakers and topics include:
Fouli Papageorgiou, Centre for Development Studies, Greece - "Introduction to the ECOLNET project, the European Ecotourism Network and the European Ecotourism Labelling Standard (EETLS)"
Zoltan Kun, PAN Parks Foundation, Hungary - "The PAN Parks Tourism Model"
Bogdan Papuc, Ecotourism Romania - "From EETLS to Eco-Romania – ecotourism destinations and products in Romania"
Mart Reimann, Estonian Ecotourism Association - "'Estonia – the Natural Way (EHE)' as a national quality standard"
Helene Lukke, Tourism Development Centre - "Enterprise Estonia, E-marketing study results"
Address
Keywords
ecotourism,
Target group(s)
Destinations

,

Businesses

,

Education, Research, Consultancy

,

NGOs, Partnerships, Networks
Topics
Certification & Marketing

,

Knowledge Networking, Training and Education

,

Natural Heritage & Biodiversity