Vienna/Austria and Zurich/Switzerland, 8 September 2020
Travelport, a leading technology company for the global travel industry, today announced that travel agencies are now able to search specifically for offers that have been certified as sustainable by an independent body in tourist booking system, CETS, and integrated search engine, PowerSearch. With this initiative tour operators, travel agencies and consumers are getting for the first time a comprehensive and reliable overview of the sustainable holiday offers available. The new service is free of charge for travel agencies and is available to all CETS users in Austria, Switzerland, Germany, Hungary, the Czech Republic, Slovakia and Slovenia.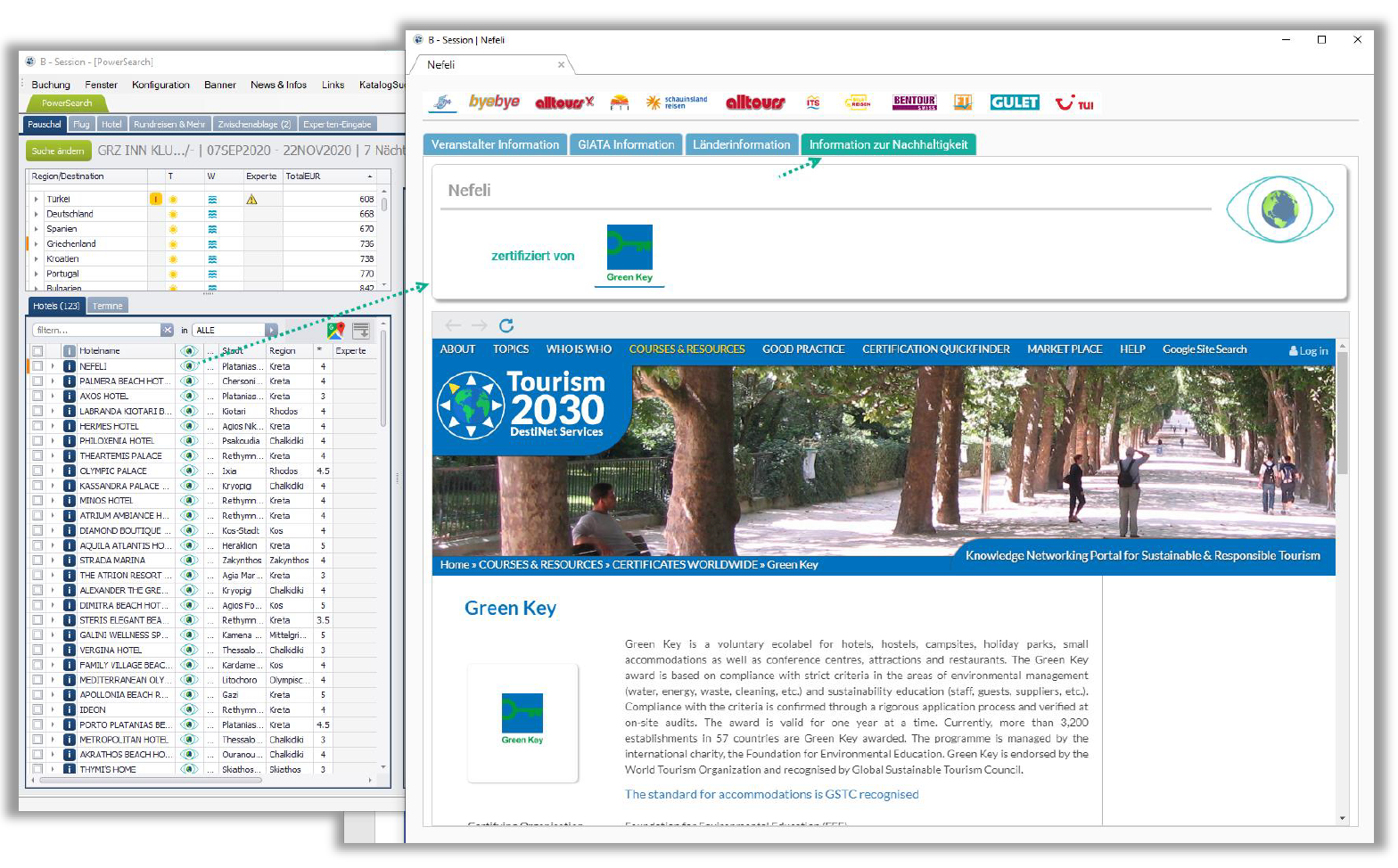 Transparent information about participating certificates
Over 3,500 certified offers available worldwide at the launch
To enable travel agency staff to quickly identify certified offers when advising their customers, Travelport has introduced a new symbol for identification: an eye with the globe instead of the iris that appears directly next to the service provider. By hovering their mouse-over the icon, the agent can immediately see by whom the offer has been certified and, by clicking on the icon, all the important details appear in a new window. It is also possible to have only sustainable hotels displayed in a search. A total of more than 3,500 certified offers are currently available via CETS and PowerSearch, at present primarily hotels, but also campsites. The number will grow continuously in the coming weeks and months and will also be expanded by certified offers from other areas such as restaurants, attractions, shops and transport and mobility providers.
Know-how on sustainability brings sales advantages for travel agencies
"Sustainability and in particular the protection of the environment are everybody's business, especially in the travel industry. We want to set an example for the future by making an effective contribution to achieving the goals of the United Nations' Agenda 2030 and promoting 'responsible consumption and production' as called for in point 12," explains Dieter Rumpel, Travelports Managing Director Germany, Austria & Switzerland. "From many discussions with tour operators and travel agencies, but also with suppliers, we know that there is an enormous demand in the market for a transparent and serious solution like the one we are now offering. Recent scientific studies also show that despite the Corona crisis, the issue of sustainability is still very high on the agenda of consumers, including when travelling. Travel agencies that can give advice on this issue not only do something good for the environment, but also have a clear advantage".
Certification exclusively according to the sustainability pillars defined by the Global Sustainable Tourism Council (GSTC)
Transparency and credibility are crucial, especially when it comes to sustainability. This is why Travelport only accept leading, internationally recognised quality seals (GSTC recognised) and national, officially recognised sustainability labels in CETS, which fulfil strict certification procedures and are subject to independent on-site testing. Based on the four pillars defined by the GSTC - 'sustainable management', 'socio-economic aspects', 'cultural aspects' and 'environmental aspects' - the quality labels are awarded for one or more pillars, so travel agencies can clearly see which areas of a provider have been assessed and certified by whom. The customer can therefore rely completely on the fact that the offers listed in CETS as sustainable are indeed sustainable.
"Environment" as a minimum requirement
The services in CETS and PowerSearch which are labelled as sustainable at least preserve the environment and/or pay particular attention to human rights or bring economic benefits to the local people in the region visited. However, Travelport only labels offers which have a label at least in the environmental dimension.
Cooperation with ECOTRANS
In this project, Travelport works closely with the European network Ecotrans, whose members are intensively committed to sustainable tourism development. Together with the European Environment Agency (EEA) and other partner organisations, Ecotrans has developed the independent information and network portal Tourism2030 (formerly DestiNet). Accordingly, Ecotrans transmits the data from Tourism2030 to Travelport for presentation in CETS and PowerSearch, with the data being made available in a uniform format for the purpose of comparability. Travelport is already integrating more than 25 seals of approval (overview will be found in the attached appendix). Further quality labels and their certified services and destinations will follow shortly. Additional sustainability-relevant travel information will also be presented in the system.
"The integration of the high-quality and internationally recognised quality labels in CETS and PowerSearch is a milestone for travel sales. Never before has it been possible to find, compare and book sustainable travel offers so specifically and reliably. In this way, we also want to strengthen the market position of all those who are already involved in this area, as well as to offer all others an additional incentive to do more for the environment and people and also to obtain certification for this", explains Thomas Zankel, Head of Travelport CETS. "Travel agencies now have it in their own hands to promote sustainable consumption in the field of travel and thus also to make their mark. On the basis of reliable facts, they can advise their customers across all tour operators and make a valuable contribution to the fact that the idea of sustainability is becoming more and more firmly established among their customers and at the same time in the travel industry, especially among the many local providers. Sustainability is an important sales argument vis-à-vis a large and constantly growing consumer group".