Olympic Truce Peace Ambassadors
CLICK ON THE MAP TO SEE THE TRUCE AMBASSADOR NETWORK MEMBERS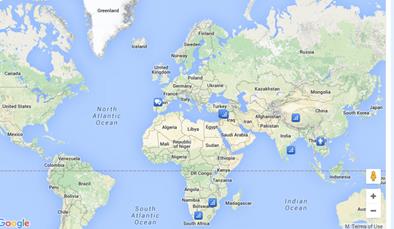 (You can see a listing of the existing youth peace ambassadors who were trained during the London 2012 Olympics below)
On this page you can learn how to become a Brazil 2016 Olympic Truce Peace Ambassador
APPLY TO BE AN OLYMPIC TRUCE PEACE AMBASSADOR
If you are successful applicant, your role will be to report on stakeholder implementation of the UN Truce Resolution during the Brazil 2016 Olympic Games. You will contribute to a global picture of world peace during the Olympic Games, and become part of a global Olympic peace team to achieve the dream of global peace in our lifetime through our individual and collective efforts.
The post requires you:
to understand the history of the Olympic Truce and its impelmentation in the modern Games.
choose a country or stakeholder group where you can establish a national/regional/local network group that will develop a Truce promotion and implementation reporting process
report on the Truce during the Games next summer
This project is supported by the UN-WTO who ae encouraging UN member states to implement the resolution. The status of Olympic Truce Peace Ambassador requires you to be able to work effectively and efficiently in a global team at the national level in your country. You will learn to use an online reporting system that will present a clear picture of during the Games of how the Truce is implemented, and which stakeholders play their part.
Apply to be a Rio 2016 Olympic Truce Peace Ambassador here!

Successful applicants will undergo an online training programme that will guide you through setting up your national networks and reporitng on key stakeholders and conflict zones. It will be the experience of a lifetime, and, if funding is secured, all peace ambassadors will have a chance of attending the Games themsleves in Rio.