Stakeholders
This section lists the stakeholders and their roles in the European Tourism Sustainability Certifcation Cluster.
This map below lists the cluster coordinating partner, the HEIs and the expert coaches who are part of the cluster formation management of the knowledge base and deliverers of cluster services, namely the Going Green Innovation, Training and Implementation system and other services cluster members wish to offer in support of tourism SME sustainability.
URL STAKEHOLDERS MAP OF REGIONAL CLUSTER MEMBERS WITH KEYWORD ETGG2030 cluster member
The ETGG 2030 country stakeholders with an interest SMEs going green in each country have been listed by each partner and mapped into the Tourism 2030 country stakeholders maps as the starting point of regional cluster formation.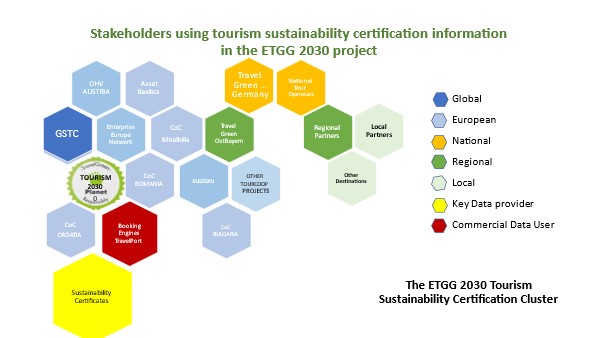 EUROPEAN TOURISM SUSTAINABILITY CERTIFICATION CLUSTER
SECRETARIAT:
Ecotrans European Network for Tourism Sustainability
BUSINESS SUPPORT ORGANISATIONS:
Mirabilia Network
SUSTAINABILITY INFORMATION PROVIDERS
TRIANGLE Knowledge Alliance
COUNTRY BASED CLUSTERS
Austria
Bulgaria
Croatia
Germany
Italy
Romania
Note that each territorial level of the Tourism 2030 Sustainability Certification Clusters are inter-linked in order that global information can flow to the local level and vice-versa.
The Role of the Stakeholders in the Tourism Sustainability Certification Cluster
Following the guidance of the UN and EU experiences of networking and clustering over the last two decades, the ETGG 2030 Going Green Tourism Sustainability Cluster stakeholders offer a common set of SME and destination support services to give a positive experience of going green in a given locality, region or country.
The ETTG Partner and expert will identify active country-based supporting stakeholders in their existing networks and bring them into the Going Green service provision to SMEs. Supporting stakeholders will be listed by both regon and topic, e.g.in the topic ENERGY the cluster will provide access to stakeholders who offer green energy solutions in the terrritory in quiestion.
Building Your Stakeholder Cluster
The ETGG2030 Goiing Green Cluster Building Process is based on the ETGG 2030 consortium partner becoming the enabling or facilitating body for the regional or global cluster. They need to provide a legal entity, a valid contact person and an address for correspondance to execute the role of acting as the tourism sustainability certification cluster secretariat. The national/regional coordinating body works with the European level to deliver a territorially-specific but European-wide going green experience for regionally based tourism SMEs, ie the ETGG 2030 Going Green programme.
How to Join a Cluster in your Country
Tourism clusters cross cut many sectors and thematicis. For example if you are in organic food production you may wish to build links into the travel and accommodation supply chain in your area. If you are part of a network or association that has an interest in sustainable consumption and production and wish to link with tourism stakeholders, then please contact the Cluster Secretarat in your region or country.
If your country is not represented then contact the ETGG2030 European Level Tourism Sustainability Certification Cluster.