Internet condition of Everest base camp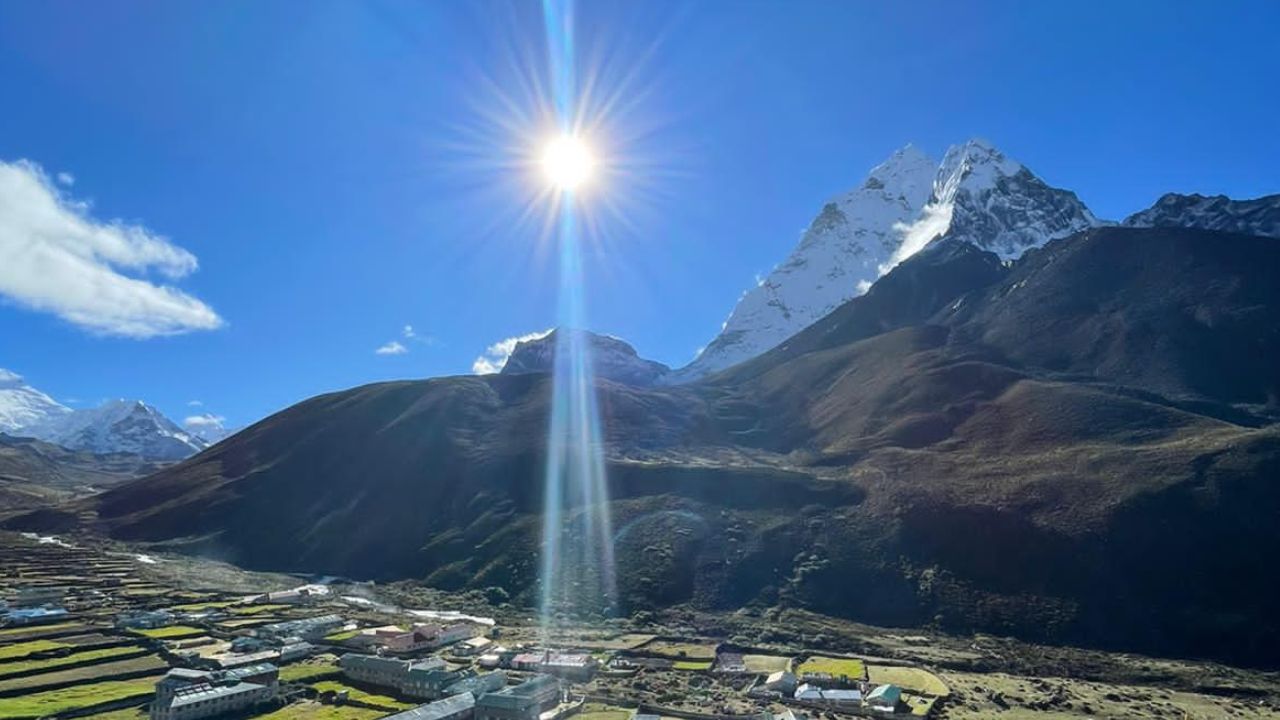 Today in the 21st century, living without the internet is getting harder for human beings. Since everyone is linked with each other, the sense of no internet kind of fetches the feelings of apartness from each other. The best thing is that the internet is accessible everywhere in the Everest base camp trek route, even at the Kalapatthar peak where the Everest base camp Helicopter tour lands for the mountain views. However, many people take trekking as a way to escape from the digital media and admix in nature forgetting annoying texts, emails, and notifications. But some want to share their experience and the Himalayas with their beloved ones, friends, and relatives.
No wonder coming face to face with Everest is every adventure seeker's dream. Sharing those awesome moments with near and dream family friends and loved ones is even more enticing. Going to the Everest Base Camp Trek? Want to keep in touch with friends via Facebook, Instagram, and tweets? Here are some ways in which you can get some WIFI power during your Everest Base Camp trek and where you can get wifi.
Talking about the Everest base camp trek, the trek is considered to be one of the classic treks in the entire world. It rewards you will jaw-dropping views of Nepal Himalayas Sherpa culture and sherpa cuisine.
Wifi in the Everest base camp region
There are multiple internet options in the Everest base camp: the dedicated ISP for Everest Region, Everest Link, as well as the mobile network providers- Ncell and NTC. Below we have made a comparison table to assist you to decide what's finest for you. But no matter what, it is essential to understand that the weather can impact the internet situation. If the weather turns bad (snowy or windy), the internet is likely to be poor.
| | | | | |
| --- | --- | --- | --- | --- |
| Location | Wifi Cost | Cell Coverage | Charging Cost | Wifi Signal |
| Lukla | US$ 5 | Ncell 3g Network | USD 1 or 2 per hour | Good |
| Phakding | Wifi accessible just at a local bakery for an hourly rate. | 3G, 2G Ncell network | Free | Good |
| Namche Bazaar | US$ 2-5 Per Hour | Ncell 3G | Free | Good |
| Khumjung | US$ 5 Unlimited | 2G Ncell Network | USD 3 per hour | Good |
| Tyangboche | US$ 5 Per Hour | 3G Ncell Network | US$ 5 Per Hour | Poor |
| Dingboche | US$ 7-10 Per Hour | 3G Ncell Network | US$ 5 per hour | Good |
| Lobuche | US$10 Per Hour | 3G Ncell Network | US$ 5-7 Per Hour | Good |
| Gorakshep | US$12 Per Hour | 3G Ncell Network, You will get strong 3G service in Everest Base Camp Nepal | US$ 5-7 Per Hour | Good |
| Pheriche | US$7 Unlimited | 3G Ncell Network | US$ 3 Per Hour | Good |
Free wifi during Everest Base camp
Yes, you heard me right. There are some places where you can get free wifi. You will get free wifi Starbucks in Lukla and at the bakery in Namche Bazaar. Likewise, Everest View Hotel is one of those places in the region that provides free WIFI service to its customers. Also, look for cafes and tea houses where they have a sign-board that says "Free-WIFI" to like a free internet connection. However, don't be expecting too much, as you will need strong luck finding those. The internet also tends towards being slow because of over-connection and unpredictable weather. Unfortunately, after Namche Bazaar, you don't have the luxury of free wifi.
Where to purchase Prepaid Sim cards
In Nepal generally, there are two popular prepaid sim cards Ncell and NTC. You can get it at the counters outside of the arrival terminal at Kathmandu Airport. If in case, you don't get there, don't worry, there are several stores in the Kathmandu valley and Lukla, Namche bazaar where you can buy them. However, the cost might be a little higher in the Khumbu region.
Talking about the cost, the actual cost of a prepaid sim is NPR 100 (~ USD 1). But if you buy from the stores in Thamel, it can cost you USD 3- 5. A balance of Nrs. 50 is included in the price. To get these sim cards you must have a photocopy of your passport, 1 passport-size photo, and a valid identity card. After getting the sim cards you might need to recharge them. To recharge sim, there are numerous stores in all places of Kathmandu, while the stores in Lukla, Phakding, and Namche Bazaar sell recharge cards but can be more expensive by a few cents than in Kathmandu. There are signboards outside the stores, so it shouldn't be that hard to find.
Similarly, to take the data pack you can just follow the given instruction on the recharge card or you can just follow the given instruction.
Checking remaining Balance:
Buying a data pack:
For NTC: Dial *1415# and select the packages inside.

Ncell: Dial *17123# and select the packages inside.
Everest link card
Apart from wifi and mobile data, there is a wireless broadband internet service that is specially designed for travelers to connect with their loved ones. You can get the Everest Link Card at a variety of stores in the Everest region. Compared to wifi, and mobile data, it is relatively cheaper. The broadband connection WIFI has prepaid cards of 50 MB to 100 MB at variable prices. You can obtain these cards at the cost of around US$ 2 to US$ 4. However, the price may differ according to the place and the time of the trek.
Overall, both the famous Everest base camp and the Everest base camp helicopter tour might be on the bucket list of many adventure seekers around the world. To explore and exchange the thrilling adventure among loved ones, you might need internet facilities. Thus, the Khumbu region offers not only the beautiful sights of the Himalayas but also offers several tea houses and lodges which offer WIFI on Everest Base Camp Trek. The NTC and Ncell provide 2G-3G mobile network packages. The Everest Link Card prepaid broadband wireless service provides better internet services in the Himalayan region.
Furthermore, this guide on the WIFI on Everest Base Camp Trek in the region will help you immensely during the trek. You can choose the internet connection that suits your preference and requirement.