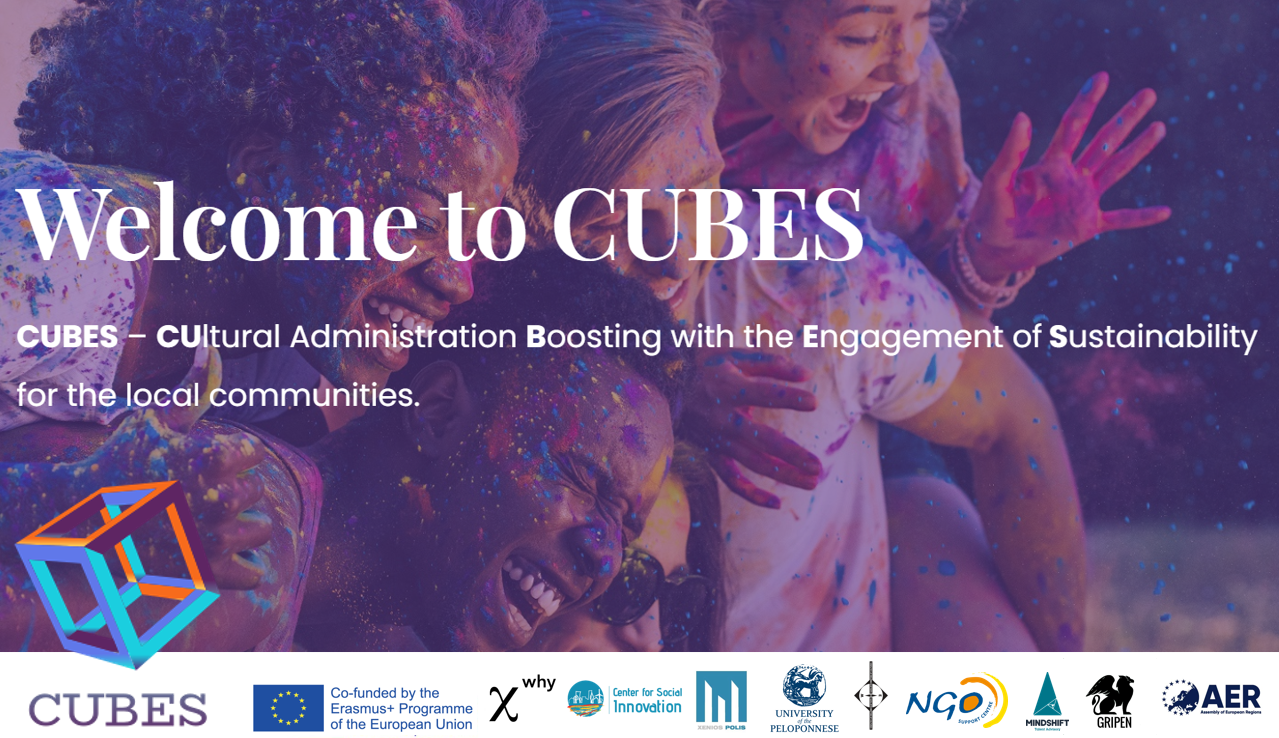 CUBES - Cultural Administration Boosting with the Engagement of Sustainability for the Local Communities is a project co-funded by Erasmus+ aiming to design and develop a training program offered on an inclusive, interactive and user-friendly digital platform, to create and disseminate know-how regarding the sustainable administration of tangible and intangible cultural resources in order to empower all sectors of society, including tourism, the economy and the local communities of our multi-layered societies, to own and administer their cultural resources in sustainable ways, aiming at both cultural democracy, cultural sustainability and sustainable tourism and development.
Main objectives of the CUBES project
To empower local communities in the participating countries with knowledge and awareness on significant aspects of cultural administration and sustainable development

To provide target groups with all the necessary knowledge so that they can act as access point-role mentors in the local communities, taking up the responsibility of informing, guiding, mentoring the other members of the communities in a series of cultural management & sustainability framework
To give the chance to youth & women of these local communities to act as leaders in their communities
To digitize the quality of learning content as a driver for systematic change in cultural administration & sustainability and for an increase in the quality of training

To create and deliver innovative products and training digital tools based on differentiation methodologies and adult education approaches
Current stage of the project
Among other sources, the invaluable contribution of our social partners has complemented the IO1 "The Review Paper", which serves as the foundation of the CUBES online training curriculum. According to research on the learning needs, the consortium of the project has developed the IO2 "Cultural Administration & Sustainability Boosters Curriculum" in English and in all local languages, and is currently finalizing the CUBES e-learning platform, containing the learning modules, which can be accessed for free at the CUBES official website www.cubesproject.eu. The Curriculum Structure develops across a total of 4 main Subjects and 12 Modules, which aim to address the core learning needs of grassroots stakeholders in the field of sustainable administration of cultural resources. Soon the curriculum will be available in translated versions in Lithuanian, Bosnian, Portuguese, Greek and Romanian and widely accessible to anyone interested, on the project's website.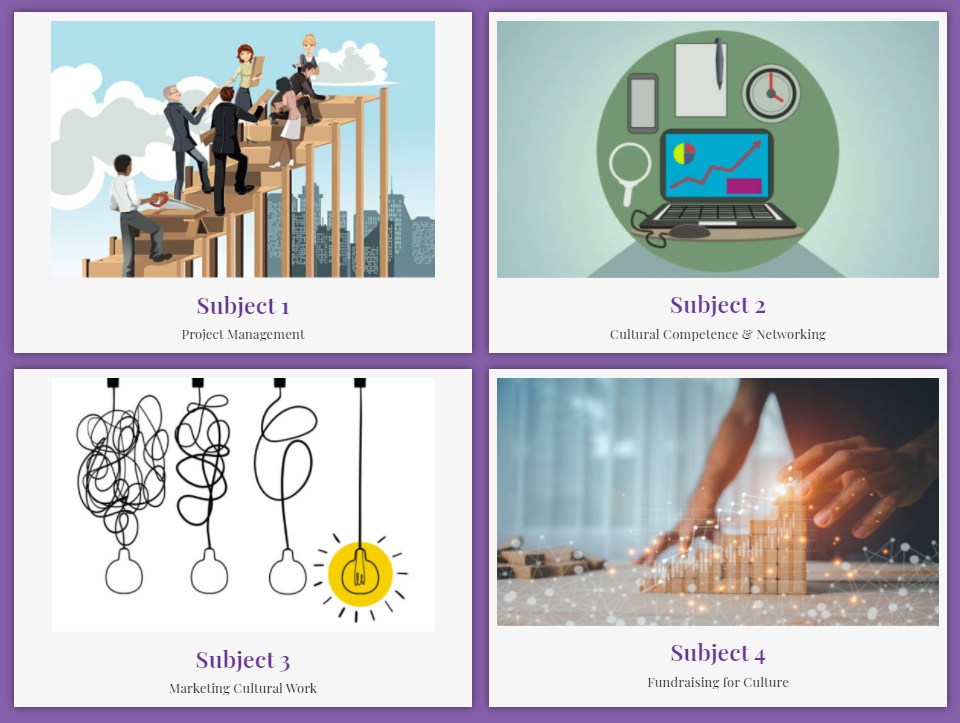 Next steps
Our current plans concern the design of the content for IO4 "Methodological Approaches Guide for Educators". This Guide aims to support adult educators to use the CUBES products, tools and materials and integrate them in training processes to address their trainees' potential and needs.
Additionally, IO5 "Policy Paper" has entered its initial stage of development and aspires to combine practice and theory, academic knowledge and policy drafting.
The CUBES partnership
The partnership of the CUBES project consists of highly qualitifed experts in the fileds of adult education, cultural sustainability and administration, VET training and academic research:
Keep abreast of developments on CUBES and cultural administration issues around the world: Visit our website and social media!
Follow us on LinkedIn: https://www.linkedin.com/company/cubes-eu
Follow us on Facebook: https://www.facebook.com/erasmuscubes
Discover more in our website: http://cubesproject.eu/
Panayiota Constanti,
Center for Social Innovation
Address
Target group(s)
Destinations

,

Businesses

,

Travellers

,

Education, Research, Consultancy

,

NGOs, Partnerships, Networks

,

Governments & Administrations
Topics
Certification & Marketing

,

Climate Change - Energy and Resource Efficiency

,

Cultural Heritage, Life Styles & Diversity

,

Destination Management

,

Good Governance & CSR

,

Human Rights & Labour Rights

,

Knowledge Networking, Training and Education

,

Natural Heritage & Biodiversity

,

Travel, Transport & Mobility

,

Value Chain Management & Fair Trade