EVENT SUMMARY: Transforming Tourism for a resilient and sustainable post COVID world
November 17, 2020
The event was organized as webinar by UNEP on 9 November 2020 in collaboration with OECD and UNECE as a side event of the 26th meeting of the UNECE Committee on Environmental Policy (CEP).
The COVID-19 pandemic is the latest, very powerful wake-up call about the links between environment, economy and human wellbeing. The tourism sector is one of those hardest hit by the COVID-19 pandemic. How to rebuild tourism so that it supports the shift towards more resilient and sustainable communities?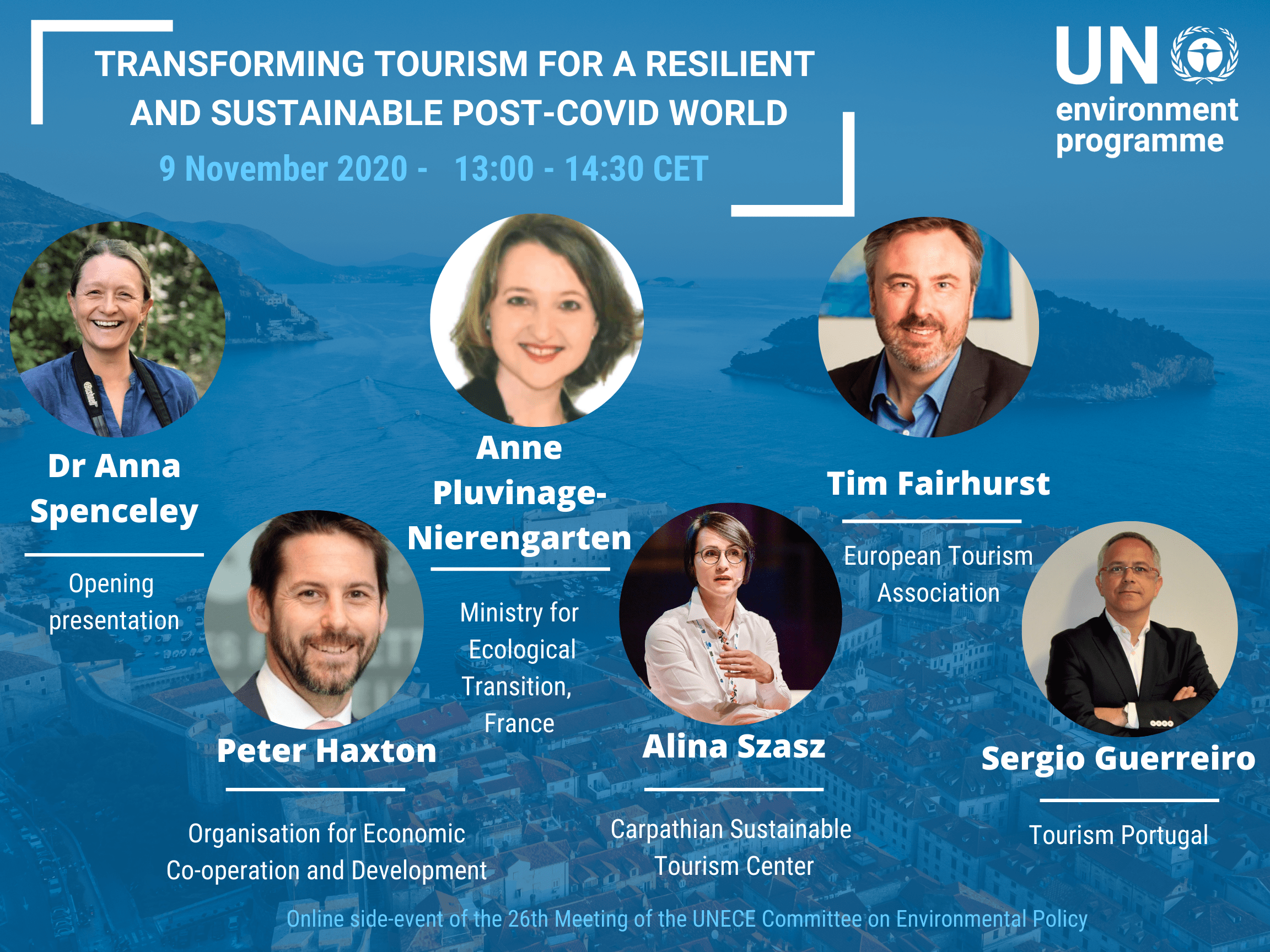 With this question in mind, UNEP brought together more than 350 participants from the wider European region and other parts of the world to discuss how to build back greener by applying principles of circularity, digitalization, innovation and cooperation. Tourism experts, representatives of European governments, tourism institutions and international organisations, NGOs, as well as academia shared their ideas and experiences on opportunities and challenges for a more sustainable tourism industry in a post-COVID scenario. The event provided an overview of the impacts of the COVID-19 pandemic on the tourism sector and examples of aligning recovery plans and investments with a transition that meets the objectives of health and safety, sustainability, climate action and biodiversity protection. The speakers highlighted the importance of policy coherence and public-private partnerships, as well as innovation through digital transformation. Many solutions are available and can be efficiently used through close collaboration and coordination among destinations, businesses, the local communities, visitors, policy makers, as well as investors.
More: all presentations and further information on the OPN site
Concerned URL
https://www.oneplanetnetwork.org/transforming-tourism-resilient-and-sustainable-post-covid-world-event-summary
Address
Source
UN One Planet Network
Keywords
transformation, sustainable tourism, Covid-19, international events
Target group(s)
Destinations

,

Businesses

,

Education, Research, Consultancy

,

NGOs, Partnerships, Networks

,

Governments & Administrations
Topics
Knowledge Networking, Training and Education

,

Good Governance & CSR