Travel, Transport & Mobility
About this topic


Sustainable transport and travel (also referred to as "soft mobility" or "sustainable mobility") play an important role in the development of sustainable tourism. Touristic transport, especially car and air traffic, is on the rise and contributes considerably to pollution and climate change. Developing and encouraging the use of different means of transport with low impact on the environment, e.g. cycling, walking, car sharing, fuel-efficient transport systems and the use of electric vehicles is a key to reducing travelers' ecological footprint. Moreover, sustainable mobility is also about meeting social and economic objectives, like social justice and economic viability.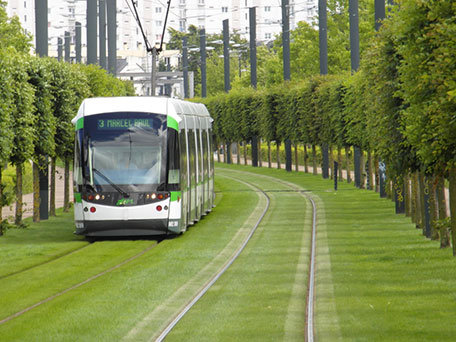 Helping you further ...

Within the last decade, the topic of "sustainable mobility" has continuously found its way to the agendas of tourism and political conferences alike. On various levels, from the local to the global, strategies for sustainable mobility and the introduction of e-mobility have been formulated and are on the way to be implemented successfully. Rapid innovation is taking place among vehicle manufacturers and destinations are making soft mobility offers a major part of a completely new tourist experience.

Meanwhile, regions, destinations and businesses aiming at introducing environmentally friendly mobility can make use of a growing set of tools, guidelines and best practice examples. In the Alpine Area there has been since 2006 a Network of destinations with carfree traveling offers: www.alpine-pearls.com

As means of transport concern all areas of the tourism supply chain (i.e. arrival and departure, local transport, accommodation, gastronomy, leisure activities, etc.), a sustainable transport system needs to be embedded in an integrated tourism strategy to be successfully implemented.

Experience shows that the development of sustainable mobility requires a multi-stakeholder approach. Collaboration between politics, the local community, NGOs, experts, destinations, businesses and travelers is essential for making sustainable transport a success – by adapting it to stakeholders' interests and making information available for everyone.

Who is who brings you to stakeholders who are working for making tourism more sustainable. You can filter them on the DestiNet Atlas for your topic of interest, keywords, type of organisation, country, operational level and landscape type. display an organisation on the global DestiNet Atlas and ask for editing rights if your organisation should already be listed.


Resources include publications and tools who can help you in making tourism more sustainable. You can filter them for your topic of interest, keywords, landscape type, country - or target group. You can disseminate your sustainable tourism publications or tools and ask for editing rights if they should already be listed.


Good Practices present tourism businesses, tour operators, destinations and initiatives who have been finalist or winner of an award or prize for sustainable tourism. You can search in the "Atlas of Excellence" for your topic of interest, keywords, landscape type, country, a.o. If you have been finalist or winner of an award you can ask for being presented on the "Atlas of Excellence" and ask for editing rights if you should already be listed.


The global sustainable tourism Market Place presents accommodation providers and restaurants, attractions and activities, travel packages, destinations, tour operators and intermediaries who have been certified by a sustainable tourism certification programme. You can filter them on the DestiNet Atlas for their certificate/s, keywords, topics, landscape types, country, a.o. The Market Solutions lead you to more than 100 certification programmes and other services helping you in making your tourism products and services more sustainable. You can place your product or service on the global sustainable tourism Market Place and ask for editing rights should your service already be listed.


The Observatory section leads to organisations, initiatives and tools for observing, monitoring and reporting the sustainable development of your business or destination.

Under each Topic you can join or start an own user group for exchange and networking e.g. with the members of your organisation, your network or project group. For further information please contact the topic folder administration.
Your contribution?

On the topic "Transport and Mobility" DestiNet provides you a lot of helpful organisations, good practice examples, tools and publications - share your own information and good practices on "My DestiNet"!

Sustainable transport is a policy concern not only for tourism but for society as a whole. Governments should follow strategic mobility concepts at a national level and provide necessary infrastructure at a local level to meet visitors' and communities' needs, supported by sufficient resources.

NGOs representing environmental, social, cultural and economic interests should bring their specific knowledge to the development of soft mobility solutions. They can play an important role in the design, implementation, operation, promotion and observation of sustainable mobility offers. Networks and partnerships can serve as a pool of best practice and support.

Universities undertaking research in sustainable mobility are broadening the knowledge base (e.g. indicators, criteria, recommended procedures) on sustainable transport solutions. Some bodies provide special courses and trainings on transport, traffic management and information systems. Consultants can support companies or destinations in implementing a sustainable mobility concept.

Sustainable mobility should be integrated into local tourism strategies, boosting a green image and also providing a special visitor experience that can be actively promoted to competitive advantage, supported by information and creative travel packaging.

Support and implementation of sustainable transport approaches by businesses is essential for the success of sustainable mobility in tourism. A rowing set of manuals show businesses the benefits of sustainable transport and guiding them on implementation.

Using sustainable means of transport for arrival, within the destination and for departure, is an easy way for travellers to reduce their ecological footprint and enjoy new ways of travelling. Good information about existing offers is vital. By reporting their experiences, travellers can contribute further.