Human Rights & Labour Rights
About this topic


Sustainable consumption and production (SCP) was developed as that aspect of Agenda 21 dealing with the need to make both consumer and producer activities more sustainable by improving economic performance without further environmental and social deterioration. SCP is about encouraging sustainable supply chain activity and sustainable demand. It includes resource and energy efficiency, sustainable infrastructure, social equity, green jobs, ethical consumer choices and a better quality of life.

In the recent Sustaianble Development Goals 2030, Sustainable Consumption and Production was listed as Goal 12.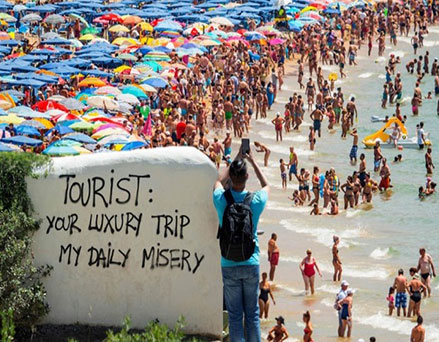 'On September 25th 2015, countries adopted a set of goals to end poverty, protect the planet, and ensure prosperity for all as part of a new sustainable development agenda. Each goal has specific targets to be achieved over the next 15 years.

Goal 12 of the SDGs calls specifically to ensure sustainable consumption and production patterns, and the first target of that goal is the implementation of the 10YFP. This recognition by the international community of the importance of implementing the cross-cutting framework of the 10YFP provides an unprecendented opportunity to mobilize resources and expertise for comprehensive action.

Check out the SCP Clearing House for the 10YFP and the SDGs.

Governments and other stakeholders measuirng progress towards the fulfillment of the ambitious 2030 Sustainable Development Agenda will be able to benchmark their progress towards SDG 12 based in part on their contributions to the 10YFP.

Special Section: Peace through Tourism

Helping you further ...

Historically, SCP was a corner-stone of the 2002 WSSD, leading to the Marrakesh Process, which brought together seven thematic areas designed to reduce economic, environmental and social costs, strengthen economic competitiveness and reduce poverty, each with its own 'task force'. Tourism was one of these areas. In this Tourism 2030 Portal, SCP is an over-arching topic that covers all other topics, and links tourism development to the wider issues of sustainability. You can follow this wider UN process in the Sustainable Development Knowledge Platform.


The development of SCP needs to be a multi-stakeholder, multi-sector process. Tourism sector stakeholders need to engage in the wider sustainable development debate to develop cross-cutting synergies.

Who is who brings you to stakeholders who are working for making tourism more sustainable. You can filter them on the DestiNet Atlas for your topic of interest, keywords, type of organisation, country, operational level and landscape type. You can display an organisation on the global DestiNet Atlas and ask for editing rights if your organisation should already be listed.
Resources include publications and tools who can help you in making tourism more sustainable. You can filter them for your topic of interest, keywords, landscape type, country - or target group. You can disseminate your sustainable tourism publications or tools and ask for editing rights if they should already be listed.
Good Practices present tourism businesses, tour operators, destinations and initiatives who have been finalist or winner of an award or prize for sustainable tourism. You can search in the "Atlas of Excellence" for your topic of interest, keywords, landscape type, country, a.o. If you have been finalist or winner of an award you can ask for being presented on the "Atlas of Excellence" and ask for editing rights if you should already be listed.
The global sustainable tourism Market Place presents accommodation providers and restaurants, attractions and activities, travel packages, destinations, tour operators and intermediaries who have been certified by a sustainable tourism certification programme. You can filter them on the DestiNet Atlas for their certificate/s, keywords, topics, landscape types, country, a.o. The Market Solutions lead you to more than 100 certification programmes and other services helping you in making your tourism products and services more sustainable. You can place your product or service on the global sustainable tourism Market Place and ask for editing rights should your service already be listed.
The Observatory section leads to organisations, initiatives and tools for observing, monitoring and reporting the sustainable development of your business or destination.

Under each Topic you can join or start an own user group for exchange and networking e.g. with the members of your organisation, your network or project group. For further information please contact the topic folder administration.
Your contribution?

On the topic "SCP & Tourism" DestiNet provides you a lot of helpful organisations, good practice examples, tools and publications - share your own information and good practices on "My DestiNet"!

Policy making for SCP is informed by global bodies and initiatives, such as UNEP, the CSD and the Global Partnership for Sustainable Tourism. National Councils for Sustainable Development deal with SCP planning at country level. SCP is often most effectively developed at a regional level. All levels of policy need to be harmonized to achieve SCP.

SCP is best achieved through partnerships and networking, as SCP is a multi-stakeholder, multi-sector process involving different levels of government with the potential to cover local to global territories.

Education and research bodies have helped to develop approaches to SCP, such as integrated product performance development and product life-cycle analysis. They need to widen the approach, reexamining overall production and consumption patterns in the context of current societal challenges.

Destinations can develop SCP processes by linking tourism to other sectoral developments in agriculture, energy, industry and transport. They should also pay attention to National Sustainable Develop Plans, and promote tourism as a catalyst for overall regional SCP.

SME and Micro enterprises can advance SCP by reviewing the sustainability of their products and services, implementing management systems for sustainability and analyzing each component part of their products and service supply chain.

Travellers need to examine the social and environmental impacts of their purchasing behavior, and then make ethical consumption choices that encourage producers to move towards more sustainable production processes.