How Clustering Works - Background Understanding
This section will give you the background to understand what clustering is and how it has been developed in the Tourism 2030 Portal.
NB Why is this so important for the ETGG 2030 project?

The European Cluster Collaboration Platform launched in 2021 a new ''Towards Green Transition'' Facility to enable ECCP clusters to promote green transition skills amongst their members through technical advisory support by resource efficiency advisors. In this facility, selected clusters will be trained and advised on a range of green transition topics so they can support their cluster members (especially SMEs) to become more resource efficient.

The intended benefits of this facility include many overlapping services that we will be offering, including:

Improved resource efficiency of European SMEs in ECCP clusters;

Support for green entrepreneurship through hands-on technical advice and support;

Best use of opportunities for greener and more efficient value (supply) chains; and

Facilitated market access for green SMEs within clusters.
WHAT IS A CLUSTER?
Clusters should be considered as regional ecosystems of related industries and competences featuring a broad array of inter-industry interdependencies.
They are defined as groups of firms, related economic actors, and institutions that are located near each other and have reached a sufficient scale to develop specialised expertise, services, resources, suppliers and skills. (p11)

Clusters are the concentration of economic activities in groups of related industries in a specific location that are connected through multiple linkages and spill-overs. (P13)

From: A Smart Guide to Cluster Policy. EU Publications 2019 via Directorate-General for Internal Market, Industry, Entrepreneurship and SMEs.

The EU Cluster Collaboration Portal gives an example of the Aragon Tourism Cluster in Spain. A more detialed example of a tourism cluster approach can be found in Germany in the Tourism Cluster Sleswig-Holzstein.
RATIONALE BEHIND THE CLUSTER DEVELOPMENT APPROACH

'Stimulating smarter, more strategic and more focused public investment that leverages more private and public initiative and investment is at the forefront of Europe's jobs, growth and investment agenda. In order for policy in this area to achieve its impact, priorities need to be set according to the geographical and thematic context of the investment. Therefore, cluster policies and smart specialisation strategies have become central to the implementation of Europe's growth strategy. ' (p9)
'Clusters and cluster policies can facilitate this process and help to maximise the impact of the EUR 121 billion of European Structural and Investment Funds allocated to investment in research and innovation guided by smart specialisation strategies. The implementation of these strategies promises to trigger industrial modernisation processes and create more productive, diversified and resilient economies.
It should in particular contribute to providing small and medium-sized enterprises – the backbone of the EU economy – with better support and investment opportunities. We hope that many national and regional policy-makers will be inspired to adapt and modernise their economic development policies in order to realise their full potential to create economic growth and new, sustainable jobs'.
CLUSTER MAPPING - The European Cluster Observatory's Approach
'Cluster mapping is a key aspect of assessing clusters, as it provides rich fact-based analysis of local competitiveness and the concentration of economic activities. It is based on a sectoral and cross-sectoral statistical analysis of regional data for several key performance indicators. The cluster mapping provided by the European Cluster Observatory puts updated cluster data for Europe, based on the latest cluster definitions, into a broader context of other cluster- and location-specific data relevant for the competitiveness of the clusters.
The European Cluster Observatory's website offers a toolkit that draws on data for the following dimensions:
specialisation and size measures, which form the core of the existing cluster mapping;
performance measures based on wages, other productivity indicators and new business formation;'

the regional context, including both the general competitiveness landscape of a region and the presence of related clusters;

collaboration, as represented by the presence and strength of cluster initiatives and regional social capital; and

other structural factors such as the structure of firms in clusters.
The results of the cluster mapping will make a crucial contribution to helping decision-makers across Europe to make more effective use of cluster data when designing or reviewing their cluster policies for growth, using a strategy that sets priorities in areas with capacity related to that of existing areas of specialisation.
CLUSTER FORMATION AND DEVELOPMENT
Typical Activities involved in Cluster Development to promote cross-sectoral collaboration: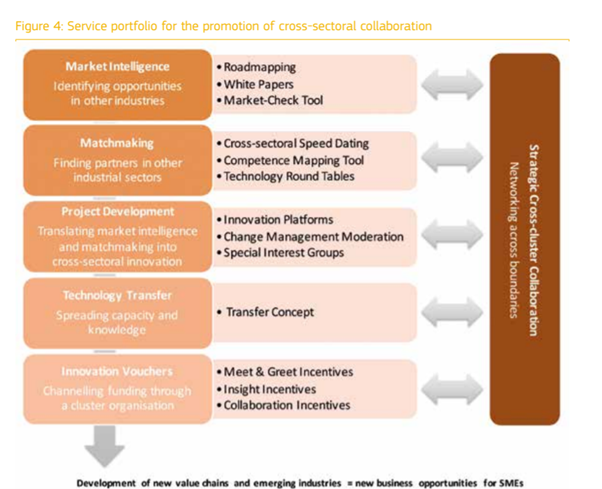 The ETGG2030 Goiing Green Cluster Building Process is based on the ETGG 2030 consortium partner becoming the enabling or facilitating body for the regional or global cluster, providing a legal entity, a valid contact person and an address for correspondance to execute the role of acting as the tourism sustainability certification cluster secretariat.
The regional or national tourism sustainability cluster coordinating body works with support from the European-level cluster secretariat to deliver a European-wide going green experience for regionally based tourism SMEs, ie the ETGG 2030 Going Green programme.
In the formation process each stakeholder defines their commitment according to the cluster mission and policy statement, and then receives induction into the Going Green Innovation, Training and Implementation process to offer their support and pursue their own interests.
The partners in the ETGG 2030 project are piloting a replicable European process to boost tourism sustainability through clustering and certification of SMEs. The process follows a path from Concept > to Specification > to Implementation, a process which will enable other regions and countries to develop tourism sustainability clusters using the same Going Green 2030 system. The following table offers those undertaking the Going Green process the three steps to consider iand execute at each stage in more detail:
The CONCEPT stage




The Going Green 2030 project proposal provided the concept of how to develop tourism SME sustainability through best practice transfer and collaboration between Business Support Organsiations and Higher Education Institutes, using the Tourism 2030 platform and TRIANGLE Knowledge Alliance as the base for building stakehodler clusters to support SME transitions in the green economy.




Project Definition

Grant Agreement

Work Packages

Deliverbles

Milestones




The SPECIFICATION stage

was based on the project submission and grant ageement with the Commission, which defined work packages, deliverables and milestones of the project.




Cluster Faciltator

Link to European level Team

Mission and Policy statement definition

Cluster secretariat team building from the HEIs and BSOs with expert coaches

Intern ICT and administative support




The IMPLEMENTATION stage

taking place during the project defines the cluster mission and policy, the role of enabler, the team definition and going green implmentation work plan int he project pahse to develop the post project service.

Here BSO and HEIs bring together the expert help SMEs need to implemetnat their green trainsformation.

The team process can be supported by an intern programme focused on development and maintenace of the ICT knowledge base that the cluster uses for its SME going green processes.
At the end of this process the partners will have established a durable tourism SME sustainability innovation training and implementation system that will suit the needs of local to global stakeholders in the 2030 decade.
EUROPEAN CLUSTER COLLABORATION PLATFORM
ICT AND CLUSTERING IN THE KNOWLEDGE ECONOMY - FROM DESTINET 2002 TO TOURISM 2030
Alongside the Commission's direct SME support work, the European approach has included regional clustering initiatives in the sectors of toruism and education. It has been these policy lines that have supported the development of an ICT programme that faciliitates the multi-stakeholder, multi-sector, multi-thematic mapping work required in the process of setting up a cluster. Over the last two decades the following projects have all addressed the concept of clustering applied to the tourism sector:




2004 -EEA, UNWTO & UNEP and Ecotrans developed the DestiNet Sustainable Tourism Portal as a response to the Agenda 21 2002 Johannesburg Summit on Sustainable Development and the call for a global information system to support sustainable development for destinations around the world. The system was based on the EEAs circa meeting and informatin exchange platform and given to Ecotrans to manage as a UN Partnerhsip for Sustainable Development.
2006 - Innovation in Tourism – How to Create a Tourism Learning Area. DG Enterprise follwed up their communication on an Agenda for Sustainable Tourism in Europe with a manual on how to support SME innovation by establishing multi-stakeholder regional learning communities to join up policy and training systems.
2011 FAST-LAIN – Further Action on Sustainable Tourism – Learning Area Innovation Networks The Learning areas manual was turned into an online ICT system to support multi-stakeholder knowledge networking through the establsihment of Knowledge and Innovation Communities (KICs).




2019 TRIANGLE – Tourism Research Innovation And Next Generation Learning Experiences. The Erasmus funding programme supported the upgrading of the system to match the process of setting up knowledge alliances, and the ICT system was developed by the TRIANGLE KA to establish a European-wide HEI collaborative knowledge base and training system
CONCLUSION - ESTABLISHING AN EU-WIDE CLUSTERING PROCESS
The ETGG Going Green methodology follows these ICT developments whilst taking account of the Commission's approach to cluster formation. Whereas the cluster methodology developed by the Commission has focused on regional clustering and it overlaps stakeholder networks in a region to strengthen links between actors and increase market opportunities, in the ETGG project the regional aspect has become multi-level, the methodology made specific to tourism sector SME sustainability and the whole system given an ICT online framework.
ETGG 2030 then applies the clustering approach to the specific issue of developing tourism sector Sustainable Consumption and Production (SCP) as part of SDG 12 as the vector to create more sustainable regions and destinatons, and also the businesses located in these areas.
Currently the Commission's cluster database has only four references to tourism and hospitality clusters, and the mapping service they offer only displays the projects and stakeholders in the projects that make up the cluster initiative partners.
However, they have a Going Green Cluster Initiative (see above), in which they will offer SMEs and expert service to go green using their approach. This facility will actually be pioneering SME expert support services similar to those in ETGG 2030. Clearly the ETGG 2030 project needs to be linked to this.
A key difference between the cluster collaboration platform of the Commission and the Tourism 2030 Portal is that the Commissions tools are mainly measurement oriented, providing project information, statistical analysis a and mapping of project stakeholders Their platform does not include am ICT based online collaborative cluster development & management tool, which is what has been constructed on Tourism 2030, and supports the daily work of both stakeholder interactiion to establish the clusters, and manage supply chain map development.
The aim of ETGG is to ensure both platforms can be related and the Tourism 2030 clustering system software be used by the Commission's TourCoop projects to build a collaborative EU wide approach to greening tourism stakeholder activity in different EU regions.
---